Cooperation stressed at national preparedness conference
Emergency services leaders stressed the need for cross-departmental cooperation in dealing with disasters this week at a national preparedness conference.
---
By Jamie Thompson
H1 Staff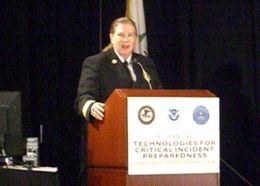 Photo Jamie Thompson
SFFD Chief Joanne Hayes-White addresses the conference.
Emergency services leaders stressed the need for cross-departmental cooperation in dealing with disasters at a national preparedness conference in November.
The chiefs of San Francisco's fire and police departments both outlined the importance for all agencies to work closely with each other at the 9th Annual Technologies for Critical Incident Preparedness Conference, held earlier this month at the Marriott Hotel in San Francisco.
During the opening ceremony, SFFD Chief Joanne Hayes-White said departments must operate as one to ensure their jurisdictions can recover from any given disaster.
"We know that working together we can be prepared and do the best we can to help our cities stand up and come back to life once that situation occurs," she said.
The three-day event, hosted by the U.S. Departments of Justice, Homeland Security and Defense, aimed to highlight the technology and training tools currently available and being developed for the emergency responder community.
Manual typewriters
Hayes-White recalled how when she joined the San Francisco Fire Department in 1990 as a firefighter, she was shocked to see manual typewriters were still commonplace.
Since then, the department has embraced technology across all levels, she said.
"The role of technology has taken on that much more importance in public safety and public protection," Hayes-White said. "What we used to do before took us a lot longer…and we're now able to do things more efficiently in serving the community."
SFPD Chief Heather Fong said her city is among a number of those in the United States that face a multitude of threats. She told the audience about a recent discussion she had with Warren Reilly, the police chief of New Orleans, which is still coming to terms with the after-effects of Hurricane Katrina.
"He said it's not preparing for the emergency; these are things we can handle on a daily basis," Fong said. "He said it's about preparing for that catastrophe. He said it's something that we all know, but that we need to hear it periodically. We know it's not a matter of if, it's a matter of when."
In times of emergency and disaster, public safety agencies need to put any differences and disagreements aside, Fong said.
"When it happens, it's not going to be one agency responding," she said. "It's not going to be how one agency does. It's how we work together, how we check the egos at the door."
Video address
During a video address to delegates, Jay Cohen, under secretary for Science and technology at the Department of Homeland Security, paid tribute to the work of first responders. He pledged that their needs will be met, but admitted resources are often stretched.
"In the homeland, it's the first responders who are our first line of defense," Cohen said.
"It's my goal to enable you with the tools to make you more effective, make you safer and do it all at a cost that we can afford."
The conference attracted more than 1,000 attendees and featured a range of speakers and exhibits.
Among the sessions at the event was a presentation on the revised NIMS document, which is due to be released at the end of the year.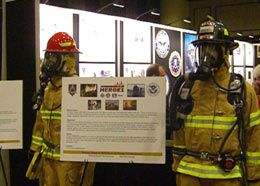 Photo Jamie Thompson
Project HEROES, a DHS-funded program spearheaded by the IAFF to develop a new generation of improved protective clothing, was among the exhibits.
More than three years have passed since the launch of the original version, which was developed to "prepare for, prevent, respond to, and recover from domestic incidents, regardless of cause, size, or complexity."
Lessons learned
Ryan Baggett, deputy director at the Justice and Safety Center, Eastern Kentucky University, who led the presentation, said the revised document takes into account views from stakeholders and lessons learned from recent incidents.
During consultation programs held over the past 18 months, more than 5,500 comments were received that have helped shape the new document, Baggett said.
The actual layout of the document has been reorganized to reflect the linear progression of emergency management and incident response, while diagrams and textboxes have been added to increase clarity and highlight key concepts.
One of the major criticisms of the original document, Baggett said, was that it was "bare-boned," an issue that has been addressed with more detailed instructions.
"Another of the big things that came up from the field is elected officials who show up when an incident occurs," Baggett said. "The new NIMS document provides guidance in dealing with elected officials and the potential roles they can play in an incident."
The new document also tries to clarify roles and responsibilities relating to the Incident Command System, something lacking in the original guidelines, according to many.
"There were a lot of different roles and lot of different ways to go about incident command within the first version," Baggett said.
"We heard a lot from the field that it does not necessarily resonate with everyone what ICS is and some of the intricacies of that system."