Community Development Grant Builds Hope for Tampa Neighborhood
Fundraising and a community development grant created Harvest Hope Park, a 7-acre inclusive space for the at-risk area near USF Tampa.
---
A 2016 community development grant has paved the way for an inclusive space in an at-risk area near the University of South Florida's Tampa campus.
The $423,000 grant from Hillsborough County was awarded to the University Area Community Development Corporation (UACDC), which also raised $90,000 at its annual gala that year to help reach the funding goal for the anticipated Harvest Hope Park.
Ground broke in March for the seven-acre park, which includes plans for an outdoor gym, a playground and a fishing pond to add to the community garden and learning kitchen already in place.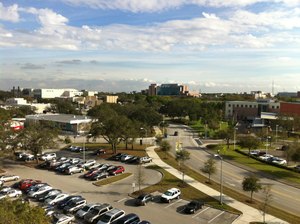 Building a park in the heart of the community is about more than just a construction project," Sarah Combs, the corporation's CEO, said. "It is about sending a message to the residents of the University Community, letting them know that we care about them and positive change is coming. This community has been promised many things over the past couple decades, and there will never be a more opportunistic time than now to unite and leverage our partnerships, to truly create a healthy and vibrant community."
The community development grant was crucial to seeing the project come to fruition for the UACDC, and helps provide the area with needed resources and positive community opportunities.
The Harvest Hope Park will allow families to enjoy the outdoors without leaving their community," Combs said. "We are growing fresh produce and we will offer free cooking lessons. Eventually, we will have a safe playground and hiking trails where residents can exercise and have fun."
In addition to activities for the community, the park will also feature the work of local artists as part of a $30,000 grant awarded to the UACDC from the Gobioff Foundation's Treasure Tampa initiative. Ground has already broken on the community-led public art installation in the center of the park, a 14-foot statue depicting "Family." Park redevelopment is expected to complete by 2018.