Milwaukee Riverwalk Cuts Ribbon on ADA Improvements
Milwaukee celebrates bringing its Riverwalk into compliance with $5 million in ADA improvements.
---
Milwaukee Mayor Tom Barrett, former Mayor John Norquist and business and community leaders recently celebrated completion of its Milwaukee Riverwalk Americans with Disabilities Act (ADA) Project. ADA improvements began in 2007 and completed earlier this year.
The 3.7 mile Riverwalk is now accessible from end to end with recent completion of five wheelchair lifts and four ramps as part of a $5 million ADA project.
According to the city of Milwaukee website, a 2003 complaint filed with the U.S. Department of Justice (DOJ) led to 28 potential ADA violations.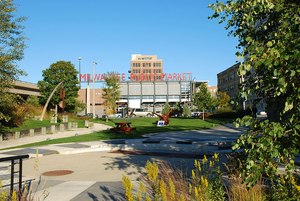 The city, county and the Downtown Milwaukee Riverwalk Business Improvement District No. 15 entered into a settlement agreement with DOJ in 2006 to:
Construct and install ramps, walkways or lifts in nine locations
Modify, replace or install handrails
Modify existing curb ramps
When completed, the Riverwalk will be 6 miles long.