White Sulphur Springs, W.Va.: Resilient, resolved to rebuild, revitalize
After historic flooding pummeled much of the town in 2016, White Sulphur Springs has been making a come back.
---
The Register-Herald
By Tina Alvey
Less than four years ago, much of White Sulphur Springs, including the eastern end of Main Street, was inundated by a historic flood.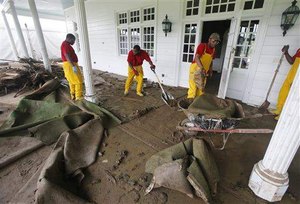 Previous flood events, coupled with a sluggish economy, had already decimated the downtown shopping district. Empty storefronts punctuated what decades ago had been widely known by its nickname — the Spa City — a quaint yet bustling resort village.
For many downtown business owners, the events of June 2016, when lazy Howards Creek transformed into a raging torrent, were the final straw. Shops were shuttered, and commerce faded.
But in the midst of the devastation, the people of White Sulphur Springs regrouped as a community, forming new bonds as they mourned their losses and found fresh determination not to simply rebuild, but to revitalize their town.
In this effort, longtime residents discovered new partners where many had least expected them — at the Greenbrier Sporting Club, a gated enclave of multimillion-dollar vacation homes just west of town.
Generous donations poured in from surrounding communities, charitable organizations and Sporting Club members alike in the flood's immediate aftermath to feed and clothe people who had lost everything and to dig out and patch up flood-ravaged homes and businesses.
But while that initial surge of assistance inevitably subsided, the sense of community in White Sulphur has remained strong.
Mayor Bruce Bowling, a lifelong resident of the town, isn't surprised by the citizenry's resilience and resolve to rebuild, but he is amazed at the pace of revitalization.
I never thought it'd happen this fast," he said. "There have been so many people working together, so many people with resources that they've committed to White Sulphur."
Future bright for Main Street
The downtown shopping district is on the cusp of a renaissance, Bowling believes.
"Close to 40 commercial properties on Main Street have been purchased in the three and a half years since the flood," he said.
Road Hog's Barbeque, a restaurant that has built quite a following in a short period of time, and Barnwood Interiors are just a couple of the new businesses that have already opened on Main Street. But they won't be the last, the mayor said.
"There's some serious things getting ready to happen," Bowling hinted.
Some of the commercial properties that have changed hands in the past three years may end up housing a brewery, a bakery, a fresh market, a coffee shop, a hardware store or a yoga studio — just a few of the proposed new businesses that the mayor hopes to see come to fruition as soon as late spring.
Appalachian Extracts, a White Sulphur CBD company, is planning to expand its operations in the city, Bowling said, and the West Virginia Great Barrel Company is easing into production at its $35 million cooperage in the Harts Run area of town, bringing with it the prospect of additional industries and more good-paying jobs.
That this uptick in business and industry comes at a time when the city has implemented a business and occupation (B&O) tax makes it even more gratifying, Bowling said. That tax is tailored to affect only large-scale enterprises — primarily the Great Barrel factory, the CBD plant and the town's two banks.
White Sulphur's B&O tax is structured to encourage new investments, with tax credit incentives for new and expanding businesses, and newly annexed businesses. Those credits are good for up to 10 years and can involve up to a 100% reduction in B&O taxes over that span.
The designation of White Sulphur Springs as an Opportunity Zone is also fortuitous, Bowling noted. Tax incentives concomitant with Opportunity Zones are making the Spa City a more attractive site for investors.
New life for an old school
One of the most positive developments for White Sulphur, Bowling said, is the recent purchase of the former high school and junior high school — later dubbed the Green Devil Civic Center — by DOF Equity Plus, LLC.
Construction on a $3 million renovation of the buildings on the property, converting the site into a hotel and events center, is expected to begin in June, according to the mayor. This will fill a major need in town, Bowling said, noting there are currently no lodging establishments in the city. While closely identified with White Sulphur Springs, The Greenbrier resort is not within the municipal limits.
"It will be a tremendous boost to the town," Bowling said.
Located just off Main Street, across from City Hall, the hotel and events center will not only bring in immediate revenue in the form of building permit fees, but will also increase visitor foot traffic and lead to additional future tax revenue.
The city received the property nearly 30 years ago from the Greenbrier County Board of Education when junior high schools were consolidated. In the years since, White Sulphur has incurred extensive costs for upkeep, utilities and insurance on the property, according to a December news release that announced last year's sale to DOF.
DOF was the sole bidder in the auction held in late summer, White Sulphur financial secretary Linda Coleman said. She said the winning bid was $100,000.
Bowling said he is impressed with the plans put forward by Charles Hammerman of New York, one of the principals in DOF. Tom Crabtree, well-known in the region as one of the founders of Homes for White Sulphur Springs and co-manager of the Great Barrel Company, is working on architectural drawings for the hotel and events center, the mayor added.
Hammerman is also providing another downtown building to the WISH Center, an all-volunteer gathering spot offering educational opportunities that has been operating out of the former civic center, Bowling said.
Public facilities
Although federal money has flowed into city coffers to replace or repair infrastructure that was damaged or destroyed by the flood of 2016, it was not enough to fix everything.
Bowling pointed out that, fortunately, the city's Tax Increment Financing (TIF) district is providing earmarked property tax revenue that will be used to address ongoing sewer issues arising from the flood, as well as extending water to Big Draft and Route 92.
Another water project, extending service to the new industrial park that contains the Great Barrel cooperage and on to Greenbrier State Forest, is now complete, Bowling said. Property owners who live along the new waterline's path can for a limited time hook onto the line without paying a tap fee, he said.
Forced by massive leakage to close following the 2013 season, the revamped municipal swimming pool complex will reopen this year, Bowling said. He pledged that the pool will be open to the public by Memorial Day — the traditional opening date for the city swimming pool.
A wellness center, which is a new addition to the pool complex at Dick Gunnoe Memorial Park, is nearly compete and could open even earlier than the pool. The facility boasts used fitness equipment donated by The Greenbrier. Donations of $75,000 each from Rural Development Partners and the Great Barrel Company paid to remodel the building that houses the wellness center.
Funds to pay for work on the swimming pool came from several sources, including individual donations from the community. Major funding was obtained in a $250,000 arts and recreation grant from the Greenbrier County Commission and matching funds from anonymous donors from the Sporting Club. Other important donations toward the pool complex came from Homes for White Sulphur Springs and the Greenbrier Valley Community Foundation.
It has, indeed, taken a village to make this happen," Bowling said before the December 2018 groundbreaking at the complex.
More needs to be done
Even with all of the progress that has been made to restore White Sulphur Springs, from dozens of new homes built by Homes for White Sulphur Springs in the Hope Village neighborhood to a new cooperative marketing venture with the Monongahela National Forest that also involves nine other towns bordering the forest, Bowling is the first to admit that more remains to be done.
"We still have housing needs; several hundred seasonal workers at The Greenbrier need housing," he said, noting there are no apartment buildings in town.
And despite a redrawing of the flood maps that will prevent further construction in parts of town that were flooded for the first time in 2016, too many existing homes and businesses are already in flood-prone areas, including a swath of the Main Street commercial district.
Although the solution to the flooding issue is quite evident, Bowling concedes it is unlikely to ever be implemented due to the cost.
"We need a flood control dam on Howards Creek; everybody knows that," he said.
His frustration lies in the fact that government agencies, as well as the local populace, have long known a dam is the solution, dating back to when his late father, John H. Bowling Jr., was at White Sulphur's helm. The elder Bowling served as mayor from 1971 to 1991 and again from 1997 to 2001.
"My father worked on a watershed project," Bruce Bowling said. "Two dams were proposed. Everybody — all of the alphabet agencies — agreed. 'Yep. You definitely need a dam.' But none of them brought any money with them."
The only difference between today and those battles his father fought is that the city now owns the land through which Howards Creek runs and where, presumably, a dam could be built.
A dam wouldn't just solve the flooding problem, it would also present great recreational possibilities — fishing, boating, swimming — by creating an impoundment upstream," Bowling said.
"It would be great for tourism, for economic development, and it would tie in with what we're doing with the (national) forest, marketing it as a destination."
But even without the added attraction of a dam, the forest project is moving forward.
"That's going to happen," the mayor said. "It's a good thing."
Now serving his second two-year term as mayor, the 63-year-old Bowling is passionate about the town and its potential.
"This job is definitely a labor of love," he said with a smile. "You're not going to get rich doing it."

(c)2020 The Register-Herald (Beckley, W.Va.)
Visit The Register-Herald (Beckley, W.Va.) at www.register-herald.com
Distributed by Tribune Content Agency, LLC.