Winooski, Vermont, Joins Mayors Challenge to End Veteran Homelessness
Winooski joins hundreds of other communities in accepting the challenge to provide housing and resources to all veterans in need.
---
Earlier this month, the City of Winooski, lead by the state's first ever female mayor Kristine Lott, became the latest community across the nation to join the Mayors Challenge to End Veteran Homelessness, Vermont Business Magazine reported.
Veterans are national heroes and the City of Winooski appreciates their valuable contributions to the security of our residents and our nation," said Mayor Lott at a city council meeting held on October 30.
"Vermont is home to nearly 43,000 veterans, approximately 72 of whom are homeless and in urgent need of care and assistance. The City of Winooski is committed to doing whatever we can to ensure housing security for veterans in need," she continued.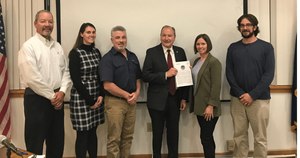 The city council also unanimously approved the official designation of November as 'End Veteran Homelessness Month.'
Launched in 2014 by then First Lady Michelle Obama, the Mayors Challenge to End Veteran Homelessness is "a call to action for all mayors and other state and local leaders to publicly commit to making sure that every veteran who served America has a home in America," explains the U.S. Interagency Council on Homelessness (USICH).
More than 550 mayors, 150 county officials and several governors have now joined the initiative, with many of these communities having been certified for achieving the goal.
The criteria and benchmarks for effectively ending veteran homelessness can be reviewed and downloaded below, but broadly speaking, there are five touchstones that communities must meet:
The community has identified all veterans experiencing homelessness.
The community provides shelter immediately to any veteran experiencing unsheltered homelessness who wants it.
The community provides service-intensive transitional housing only in limited instances.
The community has capacity to assist veterans to swiftly move into permanent housing.
The community has resources, plans, partnerships and system capacity in place should any veteran become homeless or be at risk of homelessness in the future.
Communities interested in likewise signing on should email the USICH to get started.
Review the criteria and benchmarks for successful completion of the Mayors Challenge:
Criteria and Benchmarks for Ending Veteran Homelessness June 2019 Update by Ed Praetorian on Scribd
Access the most recent official statistics on veteran homelessness in The 2018 Annual Homeless Assessment Report to Congress:
2018-AHAR-Part-1 by Ed Praetorian on Scribd