Free Webinars: LocalGov Website ADA Compliance
The local government website ADA compliance deadline is January 18, 2018. Vision is offering webinars and resources to get munis ready.
---
EL SEGUNDO, CALIF. -- In less than 70 days, local government agencies across the U.S. are required to make website content and all digital information accessible to all users, including those with visual, hearing or other disabilities protected under the Americans with Disabilities Act (ADA). More than 60 million Americans have some form of disability that inhibits them from using electronic information or browsing with a mouse, so local government website ADA compliance is critical for community engagement.
To ensure greater accessibility for all, the Web Content Accessibility Guidelines (WCAG), developed by the World Wide Web Consortium, defines how to make websites and content more accessible to people with disabilities. In January 2017, the U.S. Access Board published a Final Rule requiring that all Web, electronic and mobile digital content meet WCAG 2.0 AA standards by January 18, 2018.
Vision is offering free webinars and resources to help local leaders comply with these federal accessibility mandates before the January 18, 2018 deadline.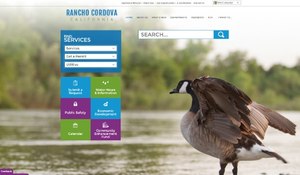 Making a building accessible to people with disabilities has been an accepted fact of design for decades," said Vision CEO David Nachman. "Now electronic information also must be accessible to all. Government agencies can no longer design websites or add content that creates unnecessary barriers to full civic participation. Vision is dedicated to creating solutions that promote access and participation by all residents."
LocalGov's Accessibility Knowledge is Low
While awareness of the accessibility compliance deadline is increasing, Nachman said the results of Vision's 2017 "What's Next Survey" revealed the level of accessibility knowledge among local government leaders remains low. "An overwhelming number of government leaders – 87 percent – said they have moderate, weak or no knowledge of Federal Web accessibility requirements," he said, noting that with the right resources and training, government agencies can learn to write, format and maintain content optimized for citizens with disabilities.
Vision is providing the following free resources:
An educational webinar series, 18 Minutes to Get You Ready for January 18, 2018, that provides critical compliance information, running from November 7th to December 12th 
View webinar recordings and register to attend upcoming webinars on Vision's website:
November 30, 2017 at 11:00 a.m. PST: Who
Who in your agency is responsible for ensuring your digital platforms are accessible? Spoiler alert: it's not just your website.
*December 5, 2017 at 11:00 a.m. PST: How
How you can create a compliant website, including how to avoid the most common issues that create inaccessible content. Spoiler alert: it's not just about alt tags on photos.
*Editor's Note: Vision changed the date for the final webinar in the series from December 12th.
Fresno is Publishing Accessible Website Content
Vision's accessibility experts, trained at Web accessibility solutions (WebAIM) and certified by the International Association of Accessibility Professionals, have been teaching department heads and website content editors how to create and maintain accessible content.
The county of Fresno, California, which recently completed Vision's accessibility training, said the program changed the government's approach to publishing content.
When we learned about their comprehensive accessibility training package for our entire team of content editors, we couldn't pass up the opportunity to take advantage of it. The training was a very eye-opening experience that changed the way we think about publishing content. It was invaluable to have our content editors understand accessibility requirements pre-launch. Now we have a great looking, easy-to-navigate, accessible website that we are proud of, and we have the tools in place to keep it that way," said Daniel Moore, the county's information technology manager.
Reformatting an entire municipal website to meet WCAG 2.0 standards can be challenging for agencies, especially as the window for compliance narrows.
About Vision 
Headquartered in Santa Monica, Calif., Vision is a national leader in government website development with more than 600 government, non-profit and education clients in U.S. and Canadian communities with populations that range from less than 1,000 residents to more than 5 million. The company creates cost-effective solutions that increase government efficiency, transparency and interactive communications with citizens. Over nearly 20 years, the company has earned hundreds of prestigious awards for its unique websites, Vision Internet's visionCMS™ is a powerful, easy to use content management system developed with input from hundreds of municipal clients.