Police Week: Ohio Cities Take Part in 'Light Ohio Blue'
Cleveland, Brunswick and other cities participate in Light Northern Ohio Blue as part of police week.
---
CLEVELAND -- Playhouse Square, the Cleveland Office of the FBI, hardware stores, homes and more throughout the greater Cleveland area are lit up blue as part of the Light Northern Ohio Blue, a campaign in its second year held during National Police Week, May 12-18, 2019.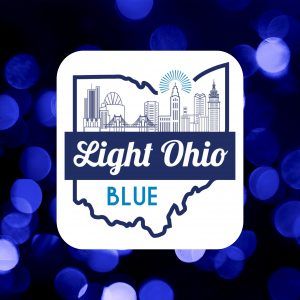 The campaign is part of the larger Light Ohio Blue. According to News 5 Cleveland, residents, businesses and landmarks across the state are being asked to light with blue light bulbs, decorate with blue ribbons and wear blue clothing to show support to law enforcement officers and pay respect to those who have perished in the line of duty.
Brunswick Citizens Police Academy Alumni Association handed out blue light bulbs at City Hall on May 1, according to Cleveland.com.  Landmark buildings like Harrison County Sheriff's Office are shining blue lights against them throughout police week. The city of Brunswick lit up its water tower, and that's very much appreciated by Sargent Daren Lubinsky of the Brunswick Police Department:
It can kind of, you know, take a little bit of a grind on you sometimes, and to be able to see people out here appreciate what you are doing and are thankful it, it just kind of rejuvenates yourself to make you realize that we work in a great community where people are thankful for what we're trying to do," he said on the news.
The local campaign -- led by the Cleveland Division of Police, FBI Cleveland Division, FBI Citizens Academy Foundation of Cleveland, Greater Cleveland Police Officers Memorial Society and city of Cleveland -- encourages businesses, residents and building owners to use blue outdoor light bulbs, wear blue clothing and share photos and tag them #LightNorthernOHblue on social media.
The memorial society also placed markers for 189 officers.
Learn more about police week in Ohio on Light Ohio Blue's website.
Access the original story on News5Cleveland.com.