NC governor halts reopening, requires face masks in public
As COVID-19 cases continue to rise North Carolina, Gov. Cooper is committed to taking a cautious approach to reopening
---
The News & Observer
By Dawn Baumgartner Vaughan, Steve Wiseman, Lynn Bonner, Chip Alexander, and Drew Jackson
RALEIGH, N.C. — A concerned North Carolina Gov. Roy Cooper announced Wednesday the state will remain in Phase Two for another three weeks while making face coverings mandatory in public.
The order that moved the state into Phase 2 on May 22 was scheduled to expire on Friday. It has been extended until July 17. The mask requirement takes effect Friday at 5 p.m.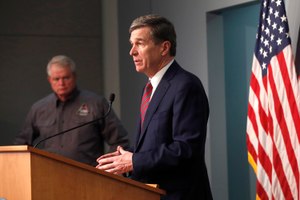 "We know next week we've got another important announcement about schools and how we'll open those up," Cooper said during a press briefing. "We are hopeful that July 17 we can move even further on restrictions and we can have our kids in school this fall."
Cooper said the state needs to stay in Phase Two for three more weeks to give experts enough time to analyze data and trends.
Exceptions to the mask requirement apply to children under 11, those with certain medical conditions and people exercising outdoors away from other people.
I urge everyone to be a leader in wearing face coverings," Cooper said. "I encourage businesses to be strong in enforcing it. Slowing the spread helps our economy, and these face coverings do that."
The moves come as the state continues to fail at hitting key benchmarks in its effort to slow the spread and serious cases of COVID-19.
"North Carolina has been careful in lifting COVID restrictions," Cooper said. "And it's because public health experts warn that removing restrictions too fast or all at once can cause a dangerous spike in the virus that would overwhelm our medical system.
"Our cautious approach is like a dimmer switch, rather than an on/off switch. Over the past weeks and months, even as we've slowly turned the dimmer switch up and eased restrictions, we've seen community spread of the virus increase in North Carolina."
Raleigh, Orange County and Durham already require the use of masks or face coverings.
"We're adding this new requirement because we don't want to go backward," Cooper said. "We want to stabilize our numbers so we can continue to safely ease restrictions, and most importantly, get our children back in school."
NC coronavirus trends
On Wednesday, the state reached its second-highest reported daily number of patients hospitalized at 906. The single-day high of 915 was established Tuesday.
To further relax social restrictions, state health officials want to see either a downward trend, or in some cases a sustained leveling in the daily trends in the number of lab-confirmed cases, hospitalizations, percent of positive tests  and people presenting in emergency departments with COVID-like symptoms.
Dr. Mandy Cohen, secretary of the state's Department of Health and Human Services, showed data during a Wednesday news conference that shows that is not happening.
"These concerning trends tell us that if left unchecked the virus will continue to spread," Cohen said.
In addition to the rising number of hospitalizations, the number of new reported lab-confirmed cases was 1,721 on Wednesday. That's the second-highest daily total DHHS has reported since the pandemic began.
DHHS reported the percent of tests positive was 8% in its latest update on Wednesday. That's down from a high of 10% last Saturday.
The number hasn't been below 8% since May 26. Mandy Cohen has previously said the state wants that percentage at 5%.
Reopening debate in the legislature
Republican state lawmakers have been leading the effort to reopen the state faster than Cooper's phased plan. The General Assembly has passed multiple bills that would reopen some still-closed businesses including bars, gyms, bowling alleys and amusement parks, as well as increase restaurant seating. Cooper has vetoed two of them and more are on his desk.
Most debate has fallen along party lines, with Democrats in both chambers wanting to follow Cooper's phased reopening, and Republican pushing for more details of the phased plan.
Rep. Darren Jackson, a Wake County Democrat and the House minority leader, asked Republicans Tuesday what their plan is if they don't like the phased plan.
"If you don't like that plan, what is your plan? Just reopen everything and let the virus ravage?" Jackson said.
Senate leader Phil Berger, an Eden Republican, told The News & Observer on Wednesday that he finds out "what the governor is going to order when he announces it in his controlled atmosphere press conferences."
Virginia's next reopening phase starts July 1. South Carolina lifted many restrictions already.
"Every one of those neighboring states is saying they're following science, too," Berger said. "The science the governor is following is political science."
An attempt to override Cooper's veto of a bill allowing bars and gyms to reopen failed on Wednesday. The House voted 66-53 to override but that failed to reach the required three-fifths majority.
Doug Warf, president of MDO Holdings, parent company of O2 fitness clubs, is part of Fitness Operators for Responsible Reopening. In an interview with The News & Observer after Cooper's announcement but before the vote, he said he wants to hear from state officials to better understand why they're remaining shut down.
"And then we'll have to make our decision," Warf said. "We do not plan to open today. But there is a part of this where those who are following the law, following the governor's orders, are being dually punished — because we're obviously not producing revenue, and we're losing numbers and team members to gyms that are open across the state."
He said it's frustrating when gyms have opened in states across the country but not in North Carolina. He said gym owners will either need to close permanently or open against the governor's recommendation.
"You're somewhat forcing the hand of other smaller providers to open without regulations, and that concerns us too because we do this as an industry," he said. "And if people are opening, we want them to follow the proper regulations to keep people safe and healthy. We don't want gyms to be a source of outbreak."
Bars remain closed
Keeping North Carolina in Phase Two for at least three more weeks also means the state's bar industry will remain closed.
Private bars were left out of North Carolina's May 22 move to Phase Two, which reopened restaurants, brewery taprooms and wineries.
Rhys Botica owns Kotuku Surf Club in Durham and has burned through the bar's rainy day fund in the three-month shutdown from the coronavirus. Now he's into his personal savings. He's mindful of the pandemic and the state's increase in cases, but said bars should be on equal footing with restaurants.
"I'd certainly like the opportunity to open," Botica said. "I realize we're in a pandemic and the numbers are rising. At the same time, I have a large outdoor area and I've been in the bar business for 20 plus years. I feel like I'm treated like a second-class citizen because I don't serve food."
The North Carolina Bar & Tavern Association, a group representing nearly 200 bar owners, sued Cooper to be able to reopen their businesses under the same Phase Two restrictions as restaurants. A decision in that suit is expected this week.
"The governor's decision to is effectively signing a death warrant for 1,063 bars across North Carolina while offering zero relief to the small business owners or their employees," Zach Medford, the bar and tavern association's president, said in a statement. "Asking bar owners to lose everything they've worked for while their competitors can thrive is unconscionable.  It's time for the courts to decide."
Mass gathering rules continue
The extension of Phase Two for three more weeks means outdoor venues, like the various speedways and racetracks around the state, can't operate with more than 25 people in attendance.
That includes Ace Speedway, the Alamance County race track Cooper and Cohen ordered shut down earlier this month after its owners violated the mass gathering rules three times by allowing thousands of spectators to attend races.
On Wednesday, an Alamance County judge ruled in favor of the state, saying the order to shut down Ace Speedway will remain in place.

(c)2020 The News & Observer (Raleigh, N.C.)
McClatchy-Tribune News Service