Atlanta Schools Shift Approach for Students Who Need Second Chance
Atlanta's Phoenix Academy principal Evelyn Mobley has focused not just on academics but also social services, like an onsite daycare where students can drop off their children before heading to class.
---
The Atlanta Journal-Constitution
By Vanessa McCray
ATLANTA -- From the outside, the sprawling brick building in east Atlanta looks like any other high school.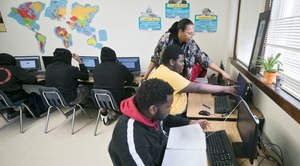 But step inside and you'll enter the epicenter of Atlanta Public Schools' new strategy for helping some of the district's most vulnerable students.
This is a place for second chances.
Phoenix Academy opened in August, the result of a district decision in March to merge programs for "non-traditional" students, including those in danger of not graduating. The change has led to a smaller staff and more online learning, an approach also being tried elsewhere.
APS officials said the restructuring has saved $1.5 million this year while helping students earn the credits they need. They are teen moms and foster kids, homeless students and students who fell behind or struggled at their home high schools.
What happened in the past didn't work, that's why they're here," said Phoenix Academy social worker Chatelah Brown. "What they are going through is so heavy that they need more individualized attention."
The challenge is great.
The four-year graduation rate for Crim Open Campus High School -- a ninth-through-12th grade alternative school that is being folded into the new academy -- was just 12.4% in 2019.
Phoenix Academy was created by closing Crim and combining it with the former West End Academy, where juniors and seniors caught up on credits by taking online classes supervised by teachers.
The academy is on the Crim campus. The Phoenix name symbolizes students rising from the ashes. The staff call each other "merchants of hope."
After only a few months of operation, it's too soon to know if Phoenix will revive students' academic careers, but the principal and teachers point to promising signs.
Daily attendance appears to be up. Enrollment, which frequently fluctuates, was about 312 students in mid-November. A year ago, Crim and West End combined had 291.
About 53 teachers and other staff are serving students this year, about a dozen fewer employees than the two programs the academy is replacing.
The smaller staff has meant a shift to more "blended learning" classes, which combine online curriculum with a supervising teacher who answers questions, checks students' notes and gives additional offline assignments.
That means students are taking different classes during the same period. In a social studies classroom, for example, students were using computers to take U.S. history, world history, economics and government, depending on which course they need to complete.
It's been a success, you know, especially for kids who haven't had success in school because they get to see instant results and that helps them because they need to see some success so they don't give up and quit on us," said Sara Brown, the social studies facilitator.
Criticism of blended learning has included concerns that it's less academically rigorous and works best for students who are self-disciplined.
Academy staff said tracking tools allow teachers to monitor students' progress and step in when they aren't keeping up. All tests must be taken in school to maintain academic integrity.
Some classes are taught through a more traditional, face-to-face approach. An evaluation is done when students enroll to determine which kind of class they will do best in, staff said. An individual learning plan is created for each student.
Tiana Mathis, 19, is a Phoenix student who plans to graduate this spring. She said she got off-track in high school after her brother's death and enrolled at the former West End Academy to catch up.
Even though much of her work is done on the computer, she's found a supportive community. She said the old West End and Crim programs are "feeling like one school."
We do build relationships. We do have fun. We can enjoy time with our teachers," she said.
Fulton County Schools also reconfigured how it teaches non-traditional students and is using a blended learning approach this year at McClarin Success Academy.
Tashea Daniel-Harris, the coordinator at McClarin, said students who are capable of learning independently also can work from home a couple of days a week. The flexible schedule is new this year. No students report to school on Fridays, but teachers use text, email or phone to check in with students.
Response has been largely positive so far, said Daniel-Harris, who said it's been a "big shift" not just for students but also for teachers. The key has been making sure that students have the support they need.
"We are not setting anybody up to fail," she said.
Atlanta's Phoenix Academy principal Evelyn Mobley, who previously led West End Academy, has focused not just on academics but also social services, like an onsite daycare where students can drop off their children before heading to class.
When we remove that baggage it gives them that capacity to learn. It gives them some air to breathe," Mobley said.
Brown, the school social worker, created a calming room -- with dimmed lights and comfortable seating. Students can go there when they're stressed or emotional. She also has food, backpacks, school supplies and blankets to hand out to needy students.
Wellspring Living, an Atlanta-based nonprofit, runs a free food pantry and clothing boutique at the school and offers counseling and help with transportation, housing, life skills and money management through its youth academy. There are also washers and dryers for students to use.
Wellspring started providing services to Crim students in 2018, and this year expanded to the new Phoenix Academy. The work is funded through a federal grant.
Phoenix leaders still are figuring out how the new model will evolve. This is the last year students can graduate with a Crim diploma. Going forward, students will take courses through the academy and receive a diploma from their home high school, similar to how West End Academy functioned.
They also have to think about scheduling and how that's impacted by an APS college and career academy that will open in the fall. Some Phoenix students are currently on a semester schedule; others are on quarters.
Phoenix Academy will remain at the old Crim campus next school year. The future location depends on a facilities master plan the district is developing for all its properties.
Te'Erica Laney, 19, said the Phoenix approach has been a good fit for her as a young mother trying to get her diploma. She's thankful for a big support team.
I feel like my teachers have been with me every step of the way," she said. "I believe I'm going to make it."
(c)2019 The Atlanta Journal-Constitution (Atlanta, Ga.)
Visit The Atlanta Journal-Constitution (Atlanta, Ga.) at www.ajc.com
Distributed by Tribune Content Agency, LLC.
McClatchy-Tribune News Service