APCO Seminar: How to Take Advantage of Mobile App Interoperability for Your Agency
Interoperability has been a challenge for many agencies in the past, but it's more possible than ever with coordination and care.
---
At the Association of Public-Safety Communications Officials' (APCO's) annual conference last year, the organization hosted a professional development session titled How to Adopt Mobile Apps and Avoid the Interoperability Challenges of the Past.
The seminar featured Niki Papazoglakis, program coordinator for Harris County LTE; Scott Edson, executive director of Los Angeles Regional Interoperable Communications System; Rear Admiral Ronald T. Hewitt, USCG (Retired), director of the Office of Emergency Communications for the Department of Homeland Security; and Robert Escalle, vice president of Public Safety Solutions at Sonim Technologies.
Papazoglakis was part of the team responsible for public safety technology when Houston hosted Super Bowl LI in 2017. With 10 city, county, state and federal agencies working together, Papazoglakis and her team saw firsthand how interoperability helped make the event a success.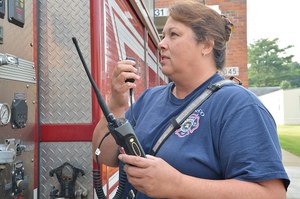 We were in a unique situation to have [Super Bowl LI] as a catalytic event that drove many of our agencies across law enforcement, fire and EMS to work together collaboratively and recognize the potential for what could happen," Papazoglakis said.
During the seminar, Papazoglakis, Hewitt and the other panelists discussed the challenges and rewards of large-scale interoperability, the benefits of common apps and how the federal government is helping agencies nationwide become more interoperable.
Key Takeaways for Agency Interoperability
#1) Interoperability should be a daily goal.
It's not enough to aim for cross-agency coordination only when your city is hosting a large event. When it comes to interoperability, consistency is key, Papazoglakis said.
"We learned during [Super Bowl LI preparation] that when you have special events and a long planning cycle, you have a lot of time to develop a common concept of operation and SOPs, and you have time to train your end users," she explained.
But time and resources for extensive coordination are not luxuries most agencies enjoy on a daily basis. As a result, interagency cooperation tends to suffer.
Unfortunately what typically happens is everybody shows up on scene and they're unable to communicate, whether it's radios or apps or whatever systems they have, it's not interoperable," Papazoglakis said. "So we started to look at how you can drive that operational use on a daily basis so that your end users have that proficiency when the time comes."
Papazoglakis' team noticed that even a gap of just a few months between using common apps and interoperability skills had a noticeable effect on aptitude.
"We recognized just from special events, using it for one event and then implementing it for another event a few months later, [people] kind of lose that skill set," she said. "So we shifted our focus to looking at how we can work with the various functions of public safety, not just agencies and departments but specific units within those, and leverage the same tools on a daily basis for their specific needs and requirements so that when that bad day does happen, they can all communicate."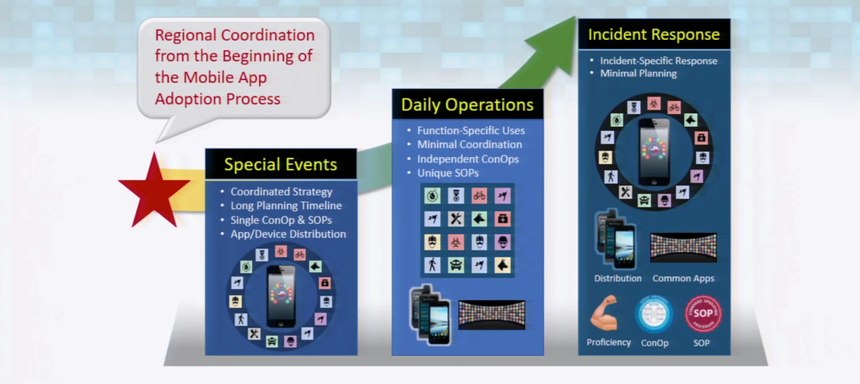 By implementing common apps and working towards interoperability on a daily basis, agencies can be prepared when these emergencies occur.
"In order for everybody to get to an incident scene without that planning time and be able to use these new sophisticated technologies, they need to have access to devices, they need app credentials and user accounts, they need efficiency and muscle memory to know to go to that tool when everything's [going wrong]," she said.
When everything's hitting the fan, that's not the time to be learning something new."
#2) Choice vs interoperability?
"One of the big questions in the industry is around standards versus using common applications," Papazoglakis said.
While ideally every agency would be able to just pick their own tool for mapping, messaging or data storage and still be able to work effectively with agencies using different apps, such variation simply isn't feasible.
So how can different agencies work together towards interoperability?
"In our region, and largely because of what we learned from having the advantage of [hosting] the Super Bowl and having our agencies work together in a pretty unprecedented and non-traditional fashion, we recognized that we needed to coordinate regionally," Papazoglakis said.
In order for there to be common apps, regional agencies have to make common choices. For Papazoglakis, a regional adoption of specific apps makes more sense than trying to force interoperability between different platforms and technologies.
"This is the approach that we're trying to take in the Harris County and the Houston metropolitan area to avoid some of the challenges we have with some of our existing systems that still don't talk to one another or have taken a lot of time and money to get to that point."
Ultimately, Papazoglakis explained, the goal is for first responders from any regional agency to show up on scene and be able to communicate, share information and cooperate with responders from any other regional agency.
"We're in a situation where we're trying to figure out how to work with our regional partners, with the City of Houston, HPD, Houston Fire, and the 60-some odd other municipalities just within our county and adjacent counties to come up with a regional model," she said.
These are definitely things that complicate the interoperability conversation because every jurisdiction, not only do we have the politics, but we have regulations, funding mechanisms, fiscal rules of how money can be spent and so forth and so trying to come together proactively and figure out how our agencies can work together [can be complicated]."
#3) Interoperability isn't just a local concern.
SAFECOM is the national governance body that supports the Department of Homeland Security on driving interoperable communications. Director of the Office of Emergency Communications for the Department of Homeland Security Rear Admiral Ronald T. Hewitt addressed how the federal government is working to help make state, regional and local agencies interoperable nationwide.
"You can't have interoperability unless you have operability, so our number one job is to help agencies ensure that they have communications systems," Hewitt said. "In the past, that's been primarily LAN-mobile radio, but [now it's] FirstNet, 4G and cellular networks."
A SAFECOM Nationwide Survey distributed to fire, police, EMS, and PSAPs in 2017-18 showed that interoperability was on the rise -- at least for some areas.
What the survey showed -- and the last time SAFECOM did the survey was in 2006 -- is that actually in interoperability for LAN-mobile radio, we've done a great job. For broadband, it's the wild, wild west -- there was almost no interoperability in terms of common apps," Hewitt explained.
Hewitt attributed success in LAN-mobile radio interoperability to the Communications Unit of the National Incident Management System, which is the training given to public safety officials so they know how to drive interoperability in a voice-LMR environment.
"You have a common communications plan [in LAN-mobile radio]," Hewitt said. "What is the equivalent to that in broadband? Is it having common apps? Is it data standards?"
In order to boost broadband interoperability in agencies nationwide, Hewitt explained, SAFECOM established a task force to drive positions that will support broadband. One pilot course took place in Papazoglakis' area in Houston.
"[Agencies] have a communications leader in charge of voice-radio communications. In the future there'll be an information technology services leader responsible for broadband, knowing how to set up wireless networks, how to work with deployables, cell-on-wheels, common apps," he said.
The problem is that while LAN-mobile radio proficiency is widespread and adaptable on the fly during an incident, applications are not.
"You can't expect someone to load an application and be operational with it onsite," Hewitt said. "It takes a lot more planning. That's why training and exercises are critical and we're really pushing in this next year to leverage planned events, like marathons, [as exercises for these apps]."