Op-ed: Australian AI Tech Offers Disaster Solutions to U.S. Governments
Australian tech companies that specialize in AI, drones and GIS support for disaster mitigation planning, response and recovery can help U.S. governments prepare for and respond to growing disasters like firestorms and hurricanes.
---
August marks the halfway point of the Atlantic hurricane season, and while this season has been relatively quiet so far, federal, state and local governments across the country still reel from recent hurricane, floods and fire seasons, among the worst in history. Innovative technology out of Australia offers federal, state and local governments solutions to augment human capabilities in climate disaster mitigation, response and recovery. Using drone footage, satellite imaging and artificial intelligence (AI) analytics, Australian tech companies are providing first responders with real-time information across the range of impacted areas, allowing them to quickly develop, deploy and evaluate rescue efforts.
As the U.S. and the world strive to adjust to the new normal of extreme weather events and climate change, governments can start by looking to Australian innovators who are on the front lines of providing governments with solutions to climate disasters.
AI Before Disaster Strikes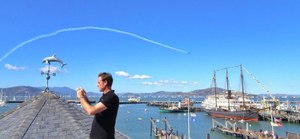 Emerging drone and GIS technology is now empowering governments to identify impending disasters before they strike, providing time for warnings to evacuate civilians and shore up supplies and rescue workers. Aussie startup, Gruntify, is among the leaders in leveraging satellite mapping and AI analytics to identify areas at risk of flooding, wildfires, earthquakes and land and mudslides. In the near future, this technology will provide immediate, actionable insights to communities at risk of natural disasters and help them to mitigate the impact of hazards in the aftermath.
Recognizing this potential, the U.S. Geological Survey (USGS) is deploying AI technology and GIS mapping, like that offered by Gruntify, to identify areas at-risk of landslides following earthquakes, hurricanes and wildfires.
Drones + AI During Disaster
The massive human and financial capital required to save lives in the wake of disaster seems to mount with each new catastrophe. First responders are stretched thin in disaster-stricken areas, and there can be delays in getting aid and rescuers where they are needed most, due to the sheer magnitude of these events. Rescue efforts are stymied by the difficulty of gathering and distributing actionable information to large numbers of relief workers across huge disaster zones, wasting precious time that could be used to save lives.
Traditional search-and-rescue efforts rely on human observation, often costing several critical days to gather and analyze information. Widespread panic and chaos, as well as damage to cable and phone lines, can further restrict responders' ability to get a clear picture of the situation on the ground and direct aid to where it is most needed. Drone footage and satellite mapping provide images of the impacted area almost immediately, and AI machines can analyze the footage in a matter of minutes.
Drones can also be used to deliver automated external defibrillators, medicine and other life-saving supplies in the immediate aftermath of a disaster before human relief workers are able to mobilize.
Australian startup, Flirtey, pioneered the first Federal Aviation Administration approved drone delivery in the U.S. to help facilitate faster delivery of food, clean water, temporary shelter supplies and medicine to disaster-stricken areas. Its founders were inspired by the cholera outbreak that followed Haiti's devastating 2010 earthquake. With cholera a risk in the wake of hurricanes in the U.S., this technology can be crucial in distributing life-saving clean water and medicine.
AI + Imagery for Recovery and Rebuilding
The value of AI and satellite mapping technology extends past immediate post-disaster recovery and rebuilding efforts. Following the Camp Fire in Northern California in November 2018, Unleash Live partnered with Butte County and several GIS and drone imaging companies to gather and analyze information on the damage sustained in the town of Paradise, which was nearly wiped out in a firestorm.
Analyzing 17,000 acres of high resolution imagery, they provided valuable insight on the count, GPS location, and square feet of the affected structures, the location and count of intact structures, and the count of vehicles damaged.
Similarly, following Australia's devastating Cyclone Debbie, the Queensland Government leveraged Gruntify technology to record and analyze asset damage reports using data collected from local councils and state government officials across the state. This capability was critical to local rebuilding efforts, providing an overview of the damage sustained within minutes, rather than the months it can take homeowners' insurance agents to assess damage and process claims.
Communities can also leverage this technology to predict and prepare for future disasters -- a vitally important capability in the climate change era.
As leaders at all levels of government grapple with how to protect their communities from disasters, they can consider how innovative partnerships in Australia save lives, reduce costs and protect communities before, during and after disasters.