$2.4 Million in Aetna Grants for Health and Hunger
Through Aetna's Cultivating Healthy Communities initiative, grants were awarded to 25 nonprofits with a focus on health and hunger in America. 
---
This week the Aetna Foundation announced the recipients of $2.4 million in grant funding aimed at improving the social determinants of health (SDOH) in underserved communities across the country. The funds were divided between 25 nonprofit organizations as part of Aetna's Building Healthy Communities initiative.
Emphasis on Food Access, Health and Hunger
Improving the health of a community means a greater emphasis on SDOH, which includes everything from food availability to transportation to medical facilities, stable housing options and other basic needs. This year's Aetna Foundation grants particularly focused on access to healthy food options by awarding large grants to two nonprofits aimed at providing at-risk individuals with healthy food.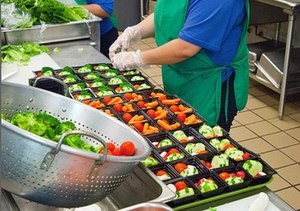 A majority of the Cultivating Healthy Communities (CHC) grants went to nonprofit organizations that allowed residents to lead the change, from community projects that better neighborhood access and usability, to working towards policy changes that promote healthy living.
We know there's no single solution to building a healthy community," Karen Lynch, president of Aetna and a member of the Board of the Directors for the Aetna Foundation, said. "In order to make a real, lasting impact, we must empower the organizations on the ground, who understand the unique needs and challenges of that community, with the tools they need to create and implement local solutions."
The Food Trust in Pennsylvania was awarded $100,000 to increase youth access to healthy foods by working with corner stores to provide healthy choices and working with schools to host farm hands. National PTA in North Carolina was awarded $91,615 to develop programs designed to encourage healthy eating through family tastings, and sample meal kits.
Safety for Youth and Elderly Residents
Community safety was another major focus of the foundation grants this year, with several nonprofits receiving awards to create or strengthen programs designed to protect at-risk residents and areas.
La Comunidad, Inc. in Massachusetts was awarded $50,000 to improve stress levels of immigrants by working with residents and police to create a community policing strategy that address residents' most pressing safety and security needs. The Children's Home, Inc. in Florida was awarded $100,000 to provide low-income grandparent caregivers and their grandchildren with a peer-supported, self-management approach that addresses diet, physical activity and stress management.
Aetna and U.S. News & World Report Community Rankings
The Aetna Foundation, in partnership with U.S. News & World Report, released their Healthiest Communities rankings in March to highlight the top 500 communities out of 3,000 across the country using 10 categories of criteria, including education, population health, infrastructure and economy. The top five cities include two from Colorado, and one each from Virginia, New Mexico and Massachusetts.