USDA Announced $600 Million for Rural Broadband
The USDA's ReConnect Program plans to expand the use of rural broadband Internet to areas that currently lack high-speed connectivity.
---
In December, U.S. Department of Agriculture Secretary Sonny Perdue announced the department would be distributing $600 million in a combination of grants and loans to build broadband infrastructure in rural areas of the country through the department's new ReConnect Program.
Telecommunication companies, rural electric cooperatives and utilities, Internet service providers and municipalities are eligible to apply for funding through the new rural broadband program.
High-speed Internet e-Connectivity is a necessity, not an amenity, vital for quality of life and economic opportunity, so we hope that today rural communities kick off their rural broadband project planning," Perdue said.
The program is part of the Trump administration's Task Force on Agriculture and Rural Prosperity, with eConnectivity as a major stepping stone to all other goals, according to the task force's infographic: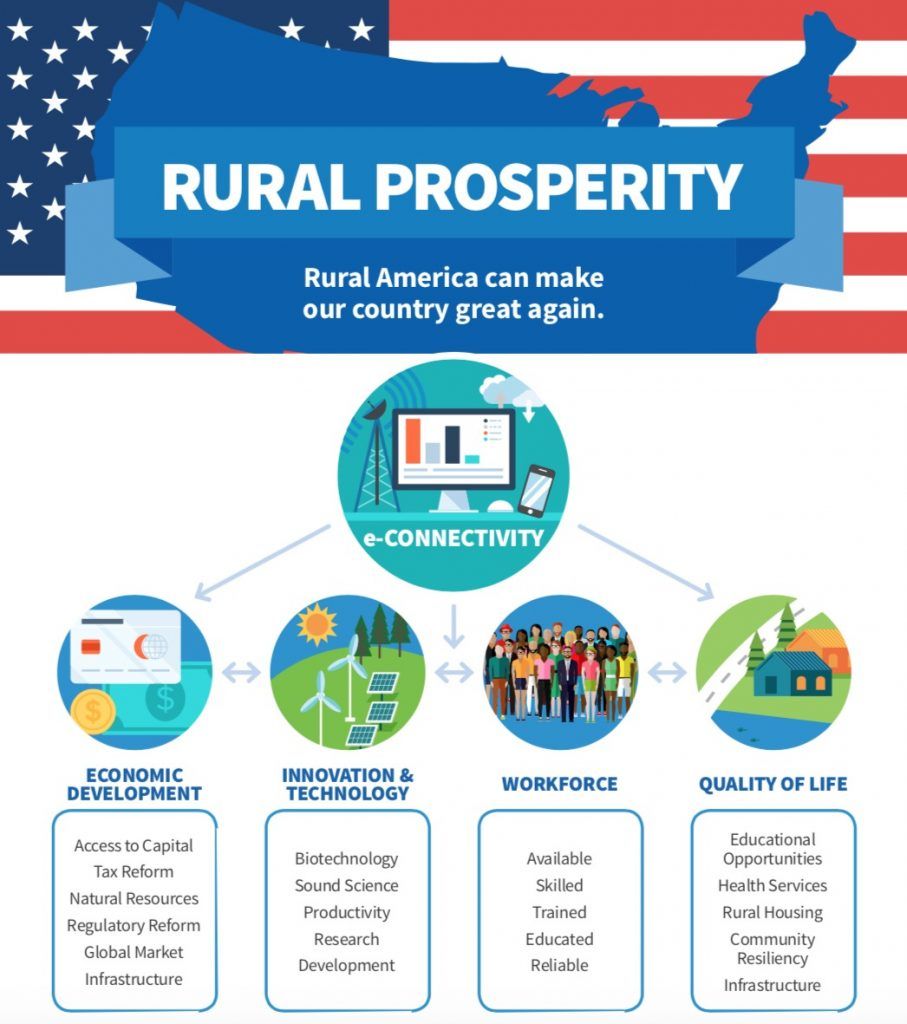 Image: USDA
The report also emphasizes the connection between high-speed Internet access and an increase in prosperity. A study conducted in 2016 and referenced in the report attributes 70,000 jobs and more than $100 billion in commerce in 2015.
Rural Broadband and the Workforce Effect
In addition, the report also connects high-speed Internet with job opportunities, as a rising percentage of the population is working remotely, either part-time or full-time. According to the report, the "share of workers doing some or all of their work away from their increased from 19 to 24 percent nationwide" between 2003 and 2015.
Particularly for rural America, where job opportunities outside of agriculture are scarce or competitive, the ability to work from home would increase the opportunity for rural prosperity.
Download the full report from the task force to the president, here.
ReConnect Program: Rural Broadband Grants and Loans
The USDA will provide $200 million for grants, $200 million in low-interest loans and $200 in grant-loan combinations. All funded projects must serve communities with 20,000 people or less, and provide broadband speeds of at least 25 mbps for downloads and 3 mbps for uploads.
Grant applications are due by April 29.
Grant-loan combination applications are due by May 29.
Loan applications are due by June 28.
Editor's Note: During the government shutdown implemented on Dec. 21, 2018, updates for the USDA ReConnect Program will not be available. More information will be provided when the department is funded for the fiscal year.