Exploring the research behind refugee resettlement and crime rates
Federal and state legislation is limiting the number of refugees who will be accepted in the U.S. in 2020, but is this a boon for public safety?
---
By Lexi Wessling
"We don't need them here."
It's short, direct, and, as internet comments go, relatively tame. Other responses left on a now-abandoned online petition to bar refugees from one western state, however, aren't as restrained.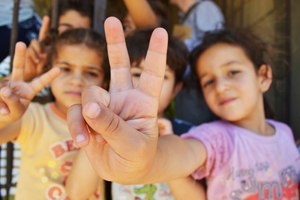 Everywhere these refugees are going, violence has gone up, and it's not towards the refugees," one poster wrote. "It's the refugees doing the violence."
And it's not just a few hundred online petitioners who believe Americans have something to fear from refugees.
According to a 2019 Gallup poll, more than 40% of Americans believe immigrants make crime worse.
Legislated Restrictions on Refugee Resettlement
In 2017, President Trump signed an executive order which banned Syrian refugees indefinitely and barred all other refugees from entering for 120 days.
By January 2018, these restrictions were removed, but already stringent vetting protocols were ratcheted up in the name of national security.
"The United States will not be a migrant camp, and it will not be a refugee holding facility," he said later that year in a meeting with the National Space Council. "It won't be. If you look at what's happening in Europe, if you look at what's happening in other places, we can't allow that to happen to the United States."
A tweet from earlier that day clarifies his meaning:
The people of Germany are turning against their leadership as migration is rocking the already tenuous Berlin coalition. Crime in Germany is way up. Big mistake made all over Europe in allowing millions of people in who have so strongly and violently changed their culture!

— Donald J. Trump (@realDonaldTrump) June 18, 2018
And these sentiments aren't confined to the federal level.
Several counties have banned refugee resettlement or limited the number of refugees within their limits – under a presidential executive order that allows it – once again citing fear of increasingly dangerous communities.
The problem with moving refugees to certain areas is that certain refugees don't assimilate well in different areas," said Jason LaValley, a Bemidji, Minnesota, resident and business owner. "I've witnessed it in different areas near our region, and it's been conflict. Crime rates have raised."
In January, Texas became the first state to choose not to accept any refugees for 2020, under the same order.
Do Refugees Cause Increases in Crime?
According to multiple studies, the answer is no.
Using data from the U.S. State Department's Worldwide Refugee Processing System, researchers from the Institute of Labor Economics sought to determine the impact of refugees on county-level crime across the nation from 2006 to 2014. Analyzing data from the FBI's Uniform Crime Reporting Program, they found no evidence of a link between refugees and increased local crime rates.
The Immigration Policy Lab tested for a connection between cities with refugee populations and local crime rates. Using the FBI's Offenses Known to Law Enforcement database, they found that even with a 65% decline in refugee resettlement following President Trump's 2017 refugee ban, there was no effect on crime rates.
Also using information from the Worldwide Refugee Processing System, one study from the New American Economy Research Fund examined the 10 cities that accepted the largest number of refugees between 2006 and 2015 and found no rise in crime. In fact, out of the 10 cities studied, nine of them actually became safer, with both violent and property crime declining significantly in several communities by rates of up to 77%.
The one city that did not see a decline in crime was facing a well-documented opioid crisis and struggled to contain related violence, according to the study.
The Future of Refugee Resettlement in the U.S.
Forty-one states have announced their willingness to accept refugees, along with 86 local governments.
This may ultimately be a moot point, though, since a federal judge ruled on January 15 to block the enforcement of Trump's executive order on the grounds that it effectively gives state and local governments "veto power" to reject refugees.
U.S. District Judge Peter Messitte wrote that the order doesn't appear to serve the "overall public interest" and that "refugee resettlement activity should go forward as it developed for the almost 40 years before [the executive order] was announced."
Messitte issued a preliminary injunction against the order as requested by the three resettlement agencies that filed the lawsuit.
According to Messitte's ruling, agencies are "likely to succeed" in demonstrating the order is unlawful.
The administration appealed the ruling yesterday.