San Diego Launches FAA-Approved Drone Pilot for Search & Rescue
The San Diego Fire Department launched the city's federally-approved drone pilot, which will test use of drones to enhance search and rescue capabilities.
---
SAN DIEGO -- The city of San Diego partnered with a drone cloud platform company to launch one of the country's first UAS Integrated Pilot Programs for the San Diego Fire Department.
Cape, a company that specializes in cloud platform for drone telepresence and data management, partnered with the city to announce the drone pilot launch, which kicked off with a live public safety demonstration highlighting drone capabilities, such as real-time aerial visibility and the ability to quickly inform resource decisions in emergencies.
"Today's smartest cities are turning to drones to not only power innovation but to improve the safety of residents, visitors and first responders," Cape CEO Chris Rittler said. "It's an honor to be a part of one of the very first IPP deployments and to showcase the full capabilities of drones and the impact on public safety. The city of San Diego is helping define the smart cities of the future and we are extremely proud to be the technology partner they trust to make it possible."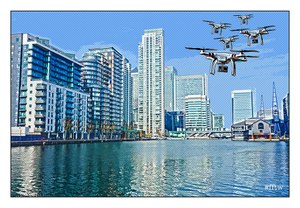 San Diego Office of Homeland Security Executive Director John Valencia said the use of drones will "save lives."
"Time is valuable in any situation and drones will allow the City to better allocate resources when responding to emergencies," he said.