Free Dispatcher Webinar: Building Resilience for Wellness
Public safety telecommunicators can attend a free resilience webinar hosted by Kim Turner and Dr. Michelle Lilly on June 29th to learn and ask questions.
---
The free "Building Resilience" webinar with Kim Turner and Dr. Michelle Lilly will be held on Saturday, June 29th at 12 p.m. PST. It's designed to answer a wellness need in the emergency responder community.
During the webinar, public safety telecommunicators and others will:
• Learn the truths of stress and post-traumatic stress in the 911 community, grounded in scientific research and real life practicum.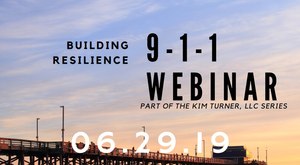 • Receive tools to build resilience.
• Ask questions that pertain to their agencies.
The webinar was developed at the request of attendees at Turner and Lilly's 911 Wellness Symposium held at San Jose State University earlier this month.