Opioid Protesters Target Museums Tied to Drug Manufacturers
Photographer Nan Goldin led opioid protesters at the Metropolitan Museum of Art Gala last week and at the Smithsonian's Arthur M. Sackler Gallery in Washington, D.C. last month.
---
THE NEW YORK TIMES
By Colin Moynihan
Anti-opioid activists unfurled banners and scattered pill bottles on Saturday inside the Sackler Wing of the Metropolitan Museum of Art in New York, which is named for a family connected to the powerful painkilling drug OxyContin.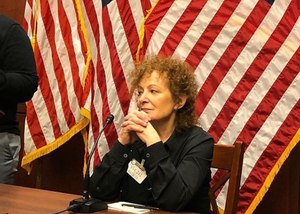 The protest, which was organized by a group started by the celebrated photographer Nan Goldin, started just after 4 p.m., when several dozen people converged at the Temple of Dendur inside the wing.
The wing is named after Arthur, Mortimer and Raymond Sackler, brothers who in the 1970s donated $3.5 million toward its construction. Their scientific and marketing skills also transformed a small business into what became Purdue Pharma, the company that developed OxyContin, which has been widely prescribed and abused. The drug's active ingredient, oxycodone, is among the most common painkillers involved in prescription opioid overdose deaths, which have become an unrelenting crisis in the United States.