Safe Babies Court Offers New Hope for Families
A new court-based program aims to help parents in child protection cases maintain healthy relationships and, ultimately, reunite with their young children in foster care.
---
Duluth News Tribune
By Tom Olsen
DULUTH, Minn. -- Establishing and maintaining a healthy bond between parent and child is the ultimate goal for St. Louis County's Public Health and Human Services child protection workers.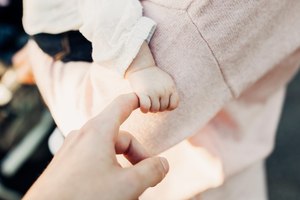 And never is that bond more important than during the child's most formative years -- from birth to age 3.
The attachments that occur and the memories (that are formed) are embedded in our brains and bodies," said Kyle Heyesen, the agency's planning, resource and organizational development supervisor.
That's why a new court-based program launched Tuesday aims to help parents in child protection cases maintain healthy relationships and, ultimately, reunite with their young children in foster care.
With the support of state and federal grants, the national nonprofit Zero to Three has selected St. Louis County as an evaluation site for an initiative known as the Safe Babies Court.
The program will allow parents, many with drug or alcohol addictions, to build relationships with their baby's foster parents, including through supervised visits with the children. Two coordinators have been hired to lead parallel programs, one based in Duluth and the other on the Iron Range.
Amanda Penley, the Duluth coordinator, said parents will appear before a judge every two months -- a little more frequently than in most child protection cases. In between appearances, she said a support team will meet with the families "to discuss the strengths and barriers of the families and where they are in their reunification plan."
"That gives a lot of accountability, not only for the parents but also for the service providers," Penley said. "And it really takes into account each specific family and what their struggles are. That also increases the communication and relationship-building for everyone involved, helping to see each other as real people working to solve the same problems."
The program will start with a target of six or eight families for each of the two coordinators, eventually growing to 20 apiece.
The support team includes not only child protection workers, but also representatives from foster care services, adult and child mental health, pediatrics, education, housing and transportation -- a reflection that challenges facing families are all-encompassing.
"In some ways, I think we've had a pretty uncoordinated or fractured service delivery," Heyesen said. "What Zero to Three brings in is a model for how we can become way more coordinated across the continuum of care."
Sixth Judicial District Judge Shaun Floerke helped spearhead the initiative and will preside over the Duluth court, while Judge Robert Friday will fill the same role in Virginia.
Floerke said the court appearances are meant to be supportive and nurturing -- not contentious like a criminal sentencing might be.
The magic isn't happening in the courtroom," he said. "The magic is happening in people's lives, connecting with resources and quality people. ... But the courtroom can be a place of support, connection, safety."
Heyesen said Floerke is a good fit for the program because he is "very compassionate, not punitive."
"This isn't going to be a penalizing, punitive model," she said. "It's about growing on the strengths that these families have and have compassion around trauma. Instead of asking people, 'What's wrong with you?' we want to look at them and try to investigate and uncover what happened that led to what they're experiencing now."
The state Department of Human Services is putting up $200,000 a year for at least two years and possibly up to five. Zero to Three is contributing $100,000 in federal grant money for the first year, with the possibility of the same for a second year.
Amy Huffer, a technical assistance specialist for Zero to Three, said the Safe Babies Court is now in use in 88 communities across the country. Zero to Three has a stated goal of ensuring that babies and toddlers are able to benefit from early connections.
"Children under the age of 3 are more likely to be in out-of-home care than other children, Huffer said. "And they're more likely to be maltreated. So we really wanted to reduce the likelihood of retraumatization within the court system."
Huffer said the program is "giving a voice to babies" while reducing chances that families will end up back in the child protection system. She said the national recurrence rate is about 10%, but it's under 1% for those who have gone through the Safe Babies Court.
"Those early life experiences really do matter for a lifetime," she said. "Every single one of us was a baby once and what happened during those early years is our model for how we interact with each other and how we interact with our communities. So, if we can interact with babies and give them a great start to life, that's going to trickle into building a strong community later."
Those involved with the court said they hope to see the principles adopted not only across courts, but also throughout the entire child welfare system -- ideally intervening earlier to avoid out-of-home placements altogether.
A lot of the parents that we see have been through really difficult experiences themselves -- perhaps they have been in the system themselves," Heyesen said. "We see these intergenerational cycles. This is a point where those cycles can be broken and changed, and there are going to be opportunities where the parents can have healing."
(c)2020 the Duluth News Tribune (Duluth, Minn.)
Visit the Duluth News Tribune (Duluth, Minn.) at www.duluthnewstribune.com
Distributed by Tribune Content Agency, LLC.