The state of Meals on Wheels: Federal cutbacks, inaction harming seniors
Meal delivery programs like Meals on Wheels are lifelines for millions of seniors, but federal spending isn't keeping up with the demand of a rapidly aging population
---
As the federal government's 2019 fiscal year came to a close this week, so, too, did something else: The Older Americans Act expired, which also unfortunately means that the funding its programs rely on — $2.06 billion just this past year — is stuck at current levels for the foreseeable future.
What follows is an overview of the state of these programs today as well as resources local governments can use to inform their own policy initiatives that will need to fill in the gaps.
Why the Missed OAA Deadline Matters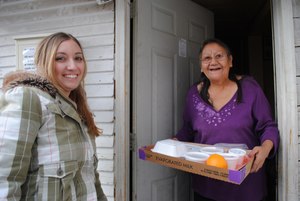 While this may not seem like a major issue — the failure to reauthorize does not preclude continued funding for these programs — it would take a 30% increase in current funding just to return it to 2010 levels, and even that would remain inadequate to tackle growing demand, AARP explained to its members in April.
Ten thousand people a day turn 65, the organization pointed out, while federal funds are dwindling.
"Because of those two curves going in opposite directions," says Dan Adcock, director of government relations and policy with the National Committee to Preserve Social Security and Medicare, "area agencies on aging have waiting lists."
And these waiting lists for services leave millions of seniors in communities across the country without the vital assistance they need.
The fact that the last reauthorization took five years to pass, even with bipartisan support, does not bring much hope that swift congressional relief is on the way.
What Is the Older Americans Act?
Enacted in 1965 as a means of tackling the gap between Social Security and Medicare, the Older Americans Act offers a variety of services for citizens over 65, including programs like home-delivered meals.
While Meals on Wheels is not a federal program, as the Trump administration's budget director Mick Mulvaney reminded the nation in 2017, many of the 5,000 individual branches receive a significant portion of their funding from the federal government. (Though, to be fair, most receive a mix of funding from federal, state, and local governments as well as philanthropic organizations and private citizens.)
And despite the fact that the Trump administration has argued that federal funding for programs like Meals on Wheels is "just not showing any results," the data begs to differ.
By the Numbers
According to the AARP in their report on the OAA and how it impacts the health of seniors (review and download, below):
11 million Americans received assistance through programs under the act in 2016
145 million meals were paid for by the OAA and delivered to homes through programs like Meals on Wheels
25 million rides were provided to places like doctors' offices
40 million hours of personal-aid care were funded
10.6 million hours of adult daycare services were subsidized
Research has consistently shown that these programs are critical services for the seniors they impact, particularly the 7.7 million seniors who are considered food insecure in America today.
Meal delivery services alone, researchers from the University of Illinois at Urbana-Champaign concluded, not only improve recipients' nutritional intake, but they also help "rebalance long-term care away from nursing homes to home- and community-based services by helping older adults maintain independence and remain in their homes and communities as their health and functioning decline."
In other words, these programs lower costs to seniors, their families and the government in the long-term.
Local Government Partnerships Are the Solution
Until a sea change occurs at the federal level, state and local governments, along with citizen volunteers, are going to have to fill in the blanks. This is of course much easier said than done, especially in the most vulnerable communities, where tax dollars are already stretched as thin as they go.
But luckily, says Sally Heinz, president and CEO of the Metropolitan Inter-Faith Association in Memphis, Tennessee, these meal delivery programs aren't actually all that costly.
"It's a relatively inexpensive thing," Heinz told LocalMemphis.com. "It costs about $9 a day to prepare and deliver a meal. I do just think it's a shame, that we are unable as a community to meet that need."
Heinz's organization is just one of many currently unable to keep up with demand. While 1,261 clients receive hot, nutritious meals at their homes thanks to their Meals on Wheels program, 600 more are languishing on a waiting list. Wait times of a year (or more) are not unheard of.
Review and download the AARP report on the OAA:
Older Americans Act by Ed Praetorian on Scribd
Learn more about senior citizen food insecurity:
The State of Senior Hunger in 2017_F2 by Ed Praetorian on Scribd