Zika Funding & Spraying Update
Zika funding at the federal level and stories about aerial spraying and public reaction from Miami's frontlines are making Zika a top story nationwide.
---
Congress has returned from the summer break, but they are no closer to a Zika funding package that will help communities respond to the abatement of mosquitoes that spread Zika virus since they left for recess in July.
The U.S. Centers for Disease Control (CDC) announced last week that they are out of money, but that has not stopped both sides from their arguments over the bill. CDC Director Dr. Thomas R. Frieden said the agency has spent $200 million of the $222 million of its current Zika funding allocation, according to ABCNews.
As previously reported, CDC has helped at least 40 states to improve Zika monitoring.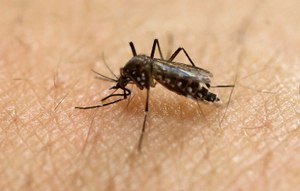 Current reports out of Washington, D.C. indicate a partisan argument over what Democrats say is bill language that limits funding to Planned Parenthood.
While many voices are critical of a Congress unable to act on Zika funding to address potential risks to public health, others are concerned about the aerial of spraying of the chemical insecticide Naled.
Miami Protests over Naled Aerial Spraying
Last week, spraying in Dorchester County, S.C., killed 2.5 million honeybees owned by commercial beekeeper Juanita Stanley. A New York Times report and a social media outcry over the specific event and its role in the ongoing plight of the honeybee, a species experiencing Colony Collapse Disorder at a rate that the U.S. Department of Agriculture is concerned about, added to the at-times confusing Zika news wave.
In the Wynwood area of downtown Miami, the public has been protesting aerial spraying of Naled.
So far, the county of Miami and city of Miami Beach are fighting the country's first cases of local transmission. The county has been addressing Miami Beach using trucks with Baccillus Thuringiensis Israelensis – an organic compound that destroys the digestive system of mosquito larvae. Sometimes the localized spraying in the most congested area of South Beach, a 20-block area that includes the popular Lincoln Road, has complicated mosquito abatement efforts due to its nightlife.
Gayle Love, the county's public works spokewoman, told the Miami Herald that the county wants to add adulticide into the mix to knock down mosquitoes, and that local code enforcement has levied several $1,000 fines to businesses and private property owners that have standing water, leaky garbage bins and air conditioners.
Meanwhile in the downtown Wynwood neighborhood, the county is spraying a 10-mile radius with Naled in an effort to be free of any new cases of Zika virus transmitted locally.
Despite the controversy, local Miami Beach officials have decided to move forward and aerial spraying of Naled will begin this Friday.
Palm Beach Argument Against Aerial Spraying
In the larger public arena, people are demanding wider spraying arguing that babies are more important than the casualties of a possible pandemic war pollinators face.
Ooh, pesticides are scary!

Ooh, modified mosquitoes are scary!

People, an epidemic of deformed babies is scary. https://t.co/i0uvWbKEzZ

— Michael Grunwald (@MikeGrunwald) September 8, 2016

Many are also concerned that aerial spraying may be an overreaction, at times needlessly killing pollinators vital to our food systems.

It feels like we might not have things quite dialed in: 'Millions of Honeybees Killed in Attempt to Prevent Zika' https://t.co/DHQNCjM1PU

— Bill McKibben (@billmckibben) September 3, 2016

However, in a story comparing another Florida mosquito-borne epidemic, St. Louis encephalitis (SLE) in the early 1990s, some experts are saying that the Zika response should be different. The Aedes aegypti mosquito, Zika's most common carrier, bites during the day and is most often found in urban neighborhoods where water pools. The breed that transmitted SLE (Culex) bites at night and breeds in swamps or ditches.

In Palm Beach County, north of Miami County,

People want us to do large sprayings now but it doesn't work well," said Ed Bradford, director of the county's division of mosquito control.

Aerial and truck spraying is more effective for SLE, but Zika requires hand-fogging and ground spraying, the Sun Sentinel reported.

Addressing Blight & Vector Control Plans

North of Zika's U.S. ground zero, officials in Tampa are using code enforcement to address blight, which can increase mosquito populations.

Across the Gulf of Mexico, New Orleans has prepared a Condensed Zika Virus Plan that defines how that city is monitoring and controling mosquitoes in their work to minimize an emerging Zika public health threat.