4 Dead, 6 Wounded in Fresno Mass Shooting
Thirty-five people had gathered at a home in southeast Fresno for a football watching party when gunmen opened fire. 2019 is on pace to be the first year since 2016 to average more than one mass shooting event per day.
---
The Fresno Bee
By Joshua Tehee, Brianna Calix and Larry Valenzuela
FRESNO, Calif. -- At least four people were killed and six others wounded Sunday night in southeast Fresno by "unknown suspects" who remained at large, police officials confirmed.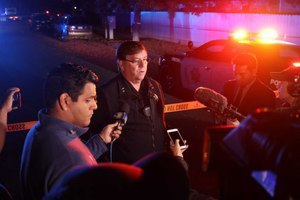 In an update just before 10 p.m., the Fresno Police Department said 10 people had been shot just before 6 p.m. in the backyard of a home on the 5300 block of East Lamona Avenue near Caesar Avenue.
"Officers arrived on scene -- what we found were several individuals deceased in the backyard," Lt. Bill Dooley said.
What we do know is that this was a gathering, a family and friend gathering in the backyard," he said. "Everyone was watching football this evening when unknown suspects approached the residence, snuck into the backyard and opened fire."
Police declined to comment on a getaway vehicle. Dooley said victims were rushed to Community Regional Medical Center in conditions ranging from "critical" to "critical but stable."
Special agents from the Bureau of Alcohol, Tobacco, Firearms and Explosives field office in San Francisco were responding to the shooting, the federal agency confirmed.
Choua Vang said Sunday's shooting wasn't the first one in the neighborhood. His next-door neighbor's house was shot at last week.
It makes me feel unsafe to be outside when the sun's down," he said.
Vang often works on his car in his driveway, but now he said he's nervous to do that and even suspicious of joggers in the neighborhood. He worries about his family members who work graveyard shifts and come home late at night, he said.
"We're thinking about moving out of the neighborhood," he said. "We don't know how many more shootings there will be."
Other neighbors declined to share their names but said they heard as many as 10 rapid-fire gunshots. It was at least the second fatal gun attack Sunday in southeast Fresno. A man in his 20s was shot to death early Sunday at a home in 3900 Block of East Dwight Way. Police have not said whether the incidents could be connected.
"Our prayers are with the families of the many victims of this recent senseless and criminal act in our community," Fresno City Councilman Luis Chavez, who represents the neighborhood, said a statement late Sunday.
This action is not a reflection of our community and our officers are working diligently to piece together the sequence of events that led up to this, but more importantly to bring all those involved to justice."
(c)2019 The Fresno Bee (Fresno, Calif.)
Visit The Fresno Bee (Fresno, Calif.) at www.fresnobee.com
Distributed by Tribune Content Agency, LLC.
McClatchy-Tribune News Service
Review and download the 2018 NCVRW Resource Guide: Mass Casualty Shootings Fact Sheet:
2018NCVRW MassCasualty 508 QC by Ed Praetorian on Scribd