911 Dispatchers Recognized as First Responders in Marion County, W.Va.
Marion County's action is part of a larger push nationwide to give 911 dispatchers the recognition and benefits they deserve.
---
FAIRMONT, W.Va. -- Marion County, West Virginia, became the latest community on Tuesday to recognize 911 dispatchers as first responders, reports WDTV.
911 dispatchers do so much for the public and they keep the first responders safe," Marion County Emergency Management Director Chris McIntire said "They answer these calls day and night. They're true first responders who take these calls. It's a very stressful job. We're very glad to have them recognized as first responders."
Marion County's action is part of a larger push nationwide to give dispatchers the recognition they deserve. Federally, these public safety professionals are classified as clerical workers.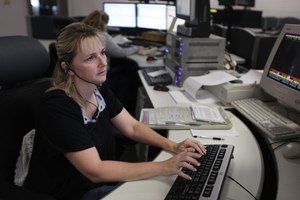 "This is a misinformed view of the work performed by 9-1-1 professionals," writes Brian Fontes for The Hill. "It fails to recognize 9-1-1 call taker's central role in public safety, the specialized training and skills that are required to do their job, and the uniquely stressful work they perform."
While the U.S. House passed legislation over the summer to address this inequity, it still needs to get through the Senate.
That's why communities across the country are taking matters into their own hands.
As IWCE points out, the legislation working its way through Congress is not expected to impact the federal budget, but many industry experts worry it could burden state and local governments with employees in the 911 system. That's because with this new classification comes not only greater pay but also access to more comprehensive benefits, most notably mental healthcare.
There's stuff that you hear, stuff you see and do out on the streets, where you have to get mental help," Captain Jeremy Hill of the Amarillo Fire Department told CNN affiliate KFDA. "That stuff happens inside here also."
Mario Lomana, telecommunications specialist for the City of Amarillo, echoed this sentiment.
"Day in and day out, you hear some of the best in Amarillo and you also get to hear some of the worst," she said to KFDA. "We take the brunt of the initial call that gets in. So being able to reach out to somebody in need for some of the calls that have an emotional toll on us is very beneficial. That will improve morale here for sure."
Thankfully, the additional price tag is one many counties across the country are willing to pay.