Can Teachers, First Responders Find Affordable Homes?
Communities can easily find out if their housing markets offer public employees, like teachers and first responders, affordable homes.
---
For everyday Americans, homeownership is far from a sure thing. The mid-range American household makes just $37,040 per year while the national median home price is $254,900. That means that the average person spends 42 percent of their income on a home purchase with a mortgage, an increase of six percentage points from 2015. With today's rising home prices and stark drops in inventory, finding affordable homes for sale is no easy feat.
Although helpful, the national numbers paint too broad of a picture on a hyperlocal subject. Just as home prices vary by market, so do wages within common occupations. Teachers and first responders, for instance, may find greater homeownership opportunity in the Midwest than on the West Coast.
Consider the following example cities with varying affordability depending on median wage data and a 31 percent debt-to-income ratio, or the recommended percent of income allocated toward housing. These calculations also assume buyers put at least 20 percent down on a 30-year fixed mortgage with a 4.1 percent interest rate. Homeowners association (HOA) dues, taxes and insurances are included.
Dayton - Affordable
In Dayton, teachers earn a median $61,810 per year. At a median list price of $129,000, 83.3 percent of Dayton homes for sale are affordable for house hunters who work in education. First responders have a lower annual median wage of $49,405 per year, but can nevertheless afford three-quarters of listings. As one of the best cities for affordable homes, buying a house in Dayton is reasonable for many professionals.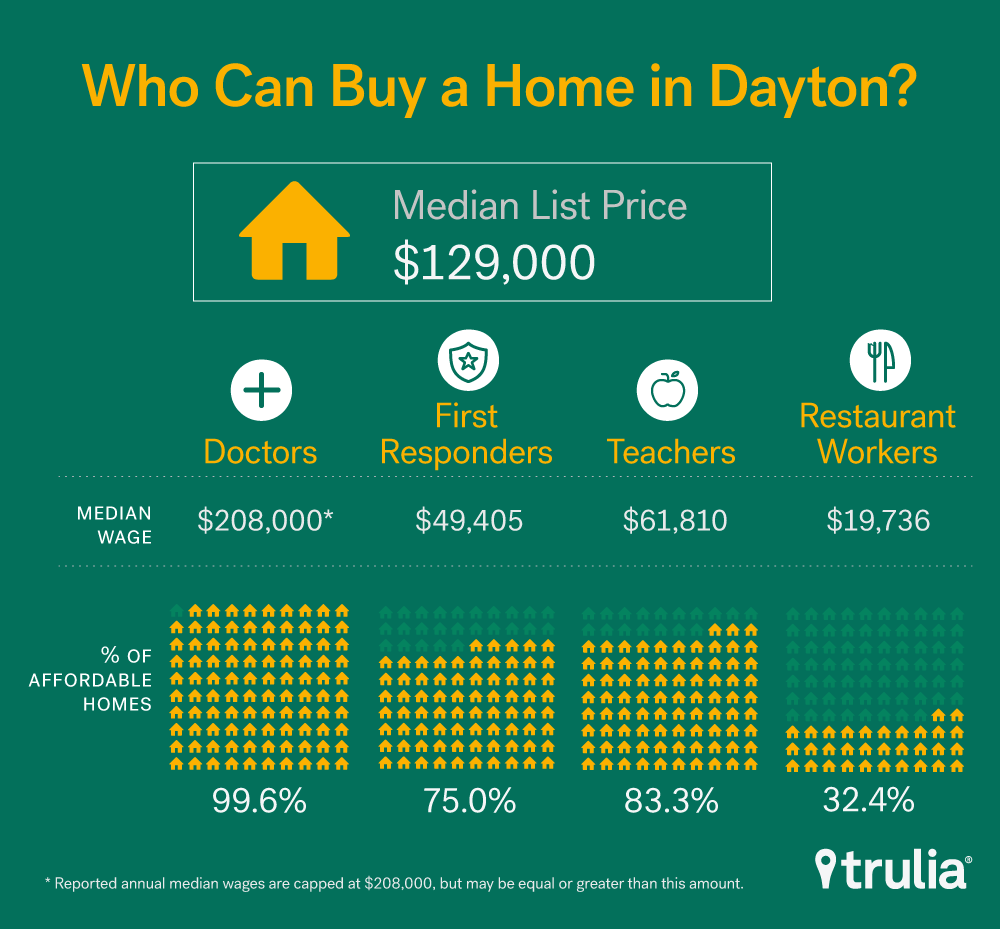 Chicago - Somewhat Affordable
Although home values vary depending on neighborhood – of which the Windy City has many – Chicago's overall median list price is a cool $279,000. For teachers who make the median income within their field of $70,483, just over half of Chicago homes for sale fall within budget. First responders have a slightly higher median income of $75,600 per year, allowing Chicago educators to consider 55.3 percent of all Chicago's inventory.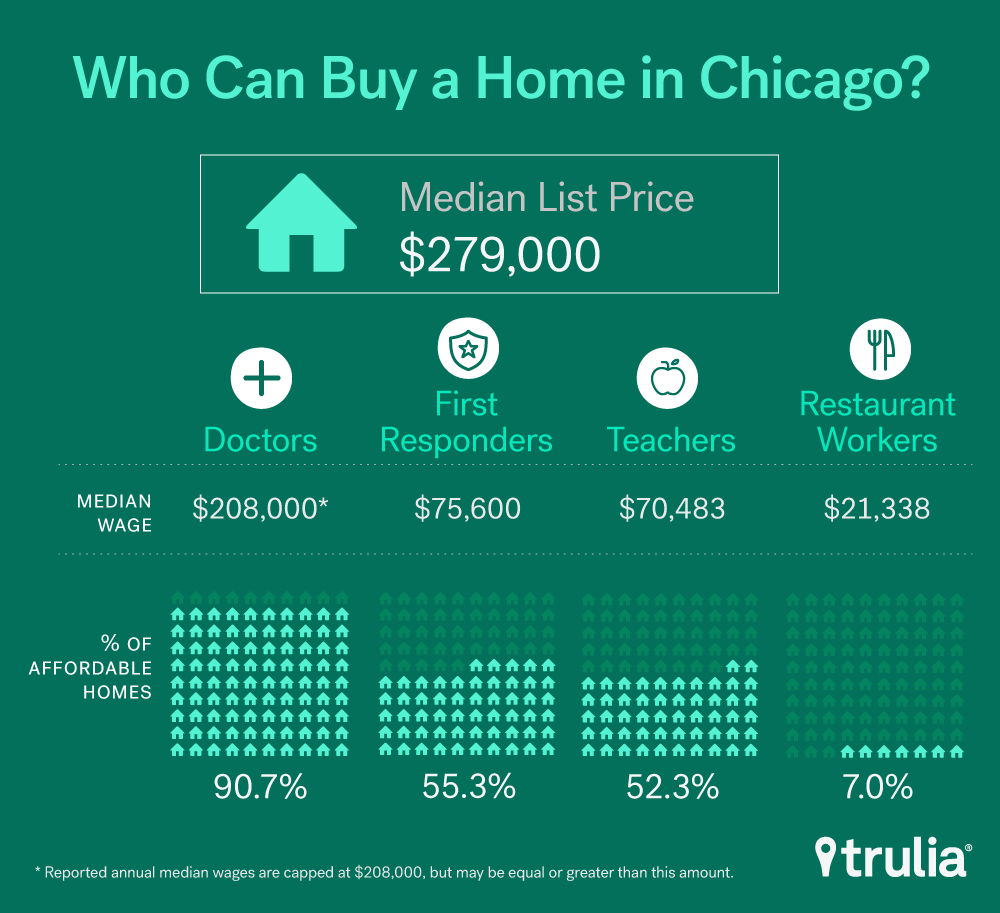 San Francisco - Not Really Affordable
The City by the Bay is the least affordable market for most earners – even high-earning physicians. With a median list price of $1.249 million, just 0.4 percent of listings are affordable for teachers who earn median wages of $72,340 per year. First responders face a similar issue; only 2.6 percent of homes for sale in San Francisco are affordable to them, despite holding a higher than usual median income of $100,625 per year. Doctors, who gross a seemingly comfortable living at $208,000 each year, can still only realistically afford 41.6 percent of the market. Although incomes are generally higher in West Coast markets like San Francisco, local wages fail to offset home prices.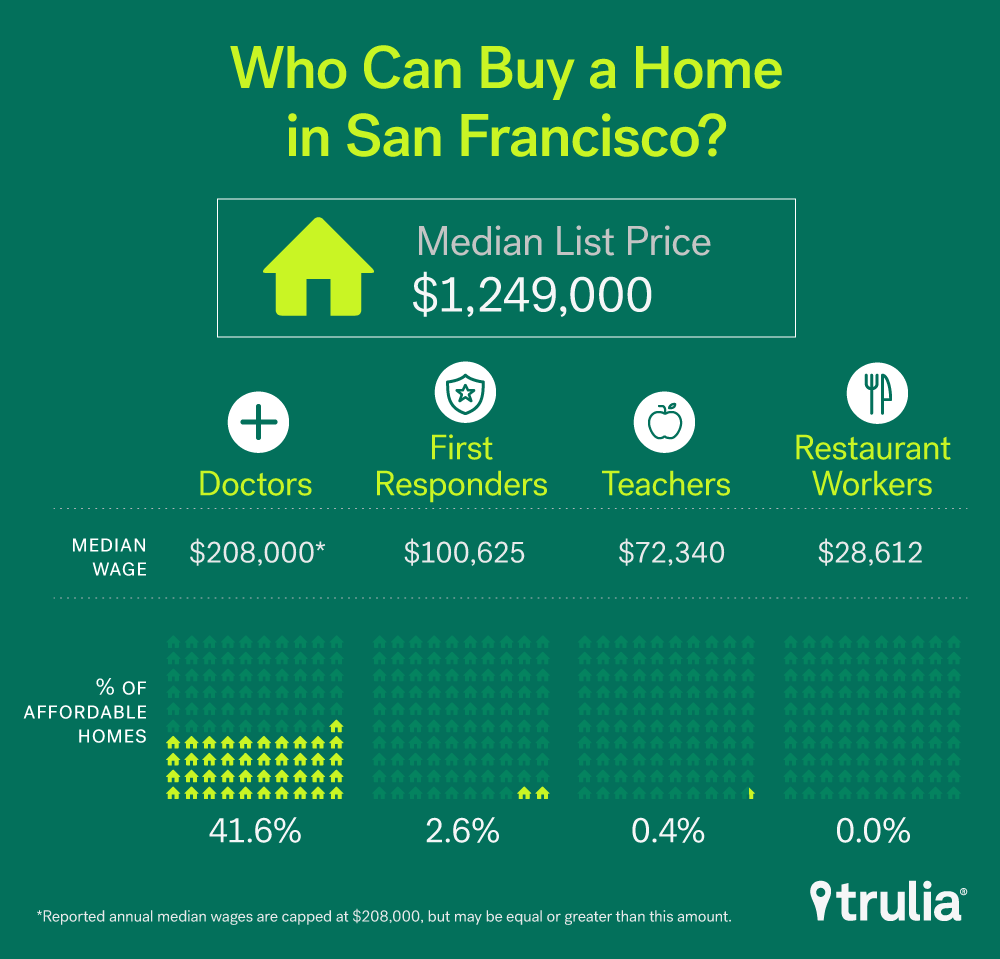 Although unaffordable for teachers and first responders to reside in, these professionals are just as vital to San Francisco as they are elsewhere in the nation. The data is telling, but homeownership affordability isn't the same for everyone.
To get a better idea if your community provides affordable homes based on specific public employee incomes and home search locale details, try Trulia's Home Affordability Calculator.
Written by Jennifer Riner on behalf of Trulia.