'Do not do this': Kansas City PD official says police will be shown Minneapolis arrest video
The video will be used as a training tool to show officers how not to detain a suspect
---
The Kansas City Star
By Glenn E. Rice
KANSAS CITY, Mo. — A member of the Kansas City Board of Police Commissioners said department officials plan to show officers a widely-circulated video of a Minneapolis police officer kneeling on the neck of a black man who died Memorial Day.
The video will be used as a training tool to show officers how not detain a suspect, he said.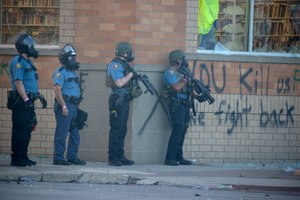 The video showed George Floyd, 46, gasping for breath during an arrest in which a white officer knelt on his neck for almost eight minutes. In the video, Floyd pleads that he cannot breathe before he slowly stops talking and moving.
Protests have rocked Minneapolis since the video was released, and have spread to other cities.
This is clearly improper use of technique and procedure, do not do this," said Nathan Garrett, a police commissioner who had previously served as board president. "This is what happens when you deploy, utilize bad technique in improper ways, this is the outcome. Do not do this."
Kansas City police have said they prioritize training their officers to use various de-escalation and disengagement techniques when confronted by potentially violent or dangerous suspects.
Police commanders plan to use the video for on-the-spot training for officers on the use of proper technique when they arrest someone. Details have not been formalized, Garrett said.
Garrett said he and other police commissioners are aware that officers are confronted each day with situations and interactions with the public that could quickly turn violent or deadly.
However, officers need to fall back on their training to safely resolve any potentially violent situation.
We are not so arrogant as to believe that we don't have an officer on our force that would use poor technique," Garrett said. "We are not immune from that. We are in the people business."
The Kansas City Police Department posted a message on Twitter, saying: 
(1/2) The tragedy in Minneapolis has impacted all of us. We recognize our community has questions. KCPD is committed to training our officers to protect and preserve life.

— kcpolice (@kcpolice) May 28, 2020

"We are reiterating to our officers," the second post in the thread continues, "our commitment to reasonable use of force to further our mission to protect and serve with professionalism, honor and integrity."
Next: Camden police launch 'last resort' use-of-force policy
(c)2020 The Kansas City Star (Kansas City, Mo.)
McClatchy-Tribune News Service