Lincoln Police Use Drone for First Time in Explosion Investigation
Police in Lincoln, Neb., used drone technology for the first time to aid an investigation into an explosion that caused damage to several homes.
---
After an explosion in a Lincoln, Nebraska, residential neighborhood, city police used drone technology to assess the damage before physically moving on to the scene.
It was the first time drones had been used by the police, which required permission from the mayor, Chris Beutler.
Police had already received a search warrant for the home, and received verbal permission from neighbors to conduct the aerial investigation.  The explosion leveled one home, scattered debris, caused damage to homes over several blocks and critically injured two people.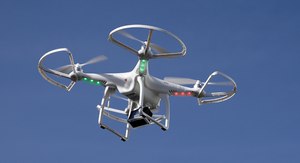 The use of drones is limited in police investigations due to careful consideration of the Fourth Amendment, which prevents unlawful searches, including aerial surveillance by a government entity.
Even with permission to photograph the area from neighbors, the police are not releasing the images received from the drone.
Access the original coverage on the Lincoln Journal Star website.