Testing Swarms of Search and Rescue Drones
---
Imagine a world where public safety professionals can enter a computerized three-dimensional model -- think Star Trek's Holodeck -- to look for damage and people. It would be created with data collected by search and rescue drones.
According to the University of California (UC) San Diego, researchers across various engineering and science disciplines are doing just that. Several teams are testing unmanned aerial vehicles (UAVs) in a new aerodrome made of a 30-foot-tall mesh cage over a 2,500-square-foot outdoor area, and there are plans to expand the test bed to a 100-foot-tall area indoors.
Research happening in the UAV laboratory -- DroneLab -- is partially funded by a $749,924 National Institute of Standards and Technology (NIST) grant to test drones for public safety use in disaster relief, as well as by the Army Research Laboratory, Army Corps of Engineers, National Science Foundation and Defense Advanced Projects Agency. The projects NIST funded last year are to help strengthen local ability to anticipate hazards, adapt and recover rapidly.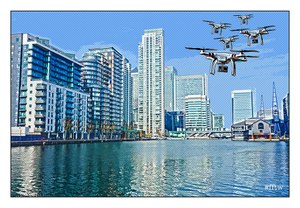 UC San Diego researchers are working to test how swarms of search and rescue drones can collect data on structures and infrastructure.
"We expect to see new research results on control of swarms of small UAVs and on the coordination between humans and robots," said aid Henrik I. Christensen, a professor of computer science at the Jacobs School of Engineering at UC San Diego and the director of the campus' Contextual Robotics Institute.
Drone-Based Imaging Needed for Disasters
Falko Kuester, who leads DroneLab and is a professor in the UC San Diego Department of Structural Engineering, is researching how drones assess damage after simulated and real disasters.
In one test, drones took images and videos of a six-story building to document damage from a simulated earthquake and a staged fire. The data was then crunched to create projected three-dimensional models that could someday be used for search and rescue (SAR) and post-disaster infrastructure assessment.
Kuester and his team travel to assist with post disaster response, including last year to Puerto Rico after Hurricane Maria and to Mexico to study earthquake damage.
Being able to develop and test indoor-outdoor flight transitions, under the broad range of scenarios that can be created within the aerodrome is a game changer for us and will ultimately help with saving lives, following disasters," he Kuester.
Commercial drone pilots have helped public agencies after disasters, focusing UAV mapping and thermal imaging capabilities on damage and roads. According to Fox Carolina, drone pilot and army veteran Brian Scott went to Texas after Hurricane Harvey. He and other drone pilots worked out of a vehicle to help local agencies learn which roads were accessible. Scott reportedly said the commercial drones were able to free up military and law enforcement aircraft to focus on rescues and other needs.
Controlling Swarms of Search and Rescue Drones with Arm Gestures
Professors Jorge Cortes and Sonia Martinez from the UC San Diego Department of Mechanical and Aerospace Engineering are working on algorithms that one person to control swarms of drones. Through an app on a tablet, they are testing how a drone operator -- wearing a motion-tracking bracelet -- can use physical gestures to control a swarm.
A swarm of SAR drones controlled by public safety could rapidly decrease the time it takes to assess damage and ultimately save lives.
"The ability to develop, test and refine drone-based imaging techniques is critical for our rapid response team," said Kuester, noting that the UAV aerodrome, funded by Northrup Grumman and Qualcomm, is a game changer for public safety drone research and development work.
SAR Drones Market Constraints
While the utility of SAR drones may be a no-brainer for emergency response, and technology is developing rapidly to make it accessible to public safety agencies, a recent drone market report indicates growth is challenged by:
High costs of drone maintenance
Complexity of repairs
Short battery life
Compliance requirements
Air traffic management issues
Lack of trained drone operators
Watch UC engineering students and researchers control drones with arm gestures: