This Afterschool Partnership Teaches Students Self-Reliance in 5 States + D.C.
The just keep livin Foundation is an afterschool partnership that supports 70+ teachers and 2,500+ students in making positive life choices.
---
According to the just keep livin Foundation, millions of teenage students are unsupervised during afterschool hours -- a time when juvenile crime and student drug use peak. The afterschool partnership, which currently serves more than 2,500 students at 32 programs located in California, Louisiana, Ohio, Tennessee, Texas and Washington D.C., offers participating students "a safe place to enhance their lives" with fitness and health experts that teach self-reliance.
Not only do students get in shape, but the organization has found that the students gain confidence and improve their grades, attendance and behavior.
The j.k. livin' program has been the first program to effectively bring in a diverse group of students on a voluntary basis. These kids have all progressed in their own way. Some have grown more confident socially, others have grown more confident physically, while others have used it as a platform for support their existing sporting and social networks. Overall the program has been a huge success, and brought a lot of growth and happiness to all involved including myself!!" said Missy Shepherd, one of the program's teachers working with Venice High School students in Los Angeles.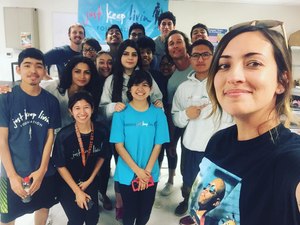 By partnering with schools, the foundation aims to reach teenagers to help them make positive life choices by offering them opportunities through five program areas:
The foundation provides training and support to 70+ teachers that administer its program.
Afterschool partnership program highlights include:
Los Angeles Saturday & Stadium - A day at the beach going through stations for surfing/body surfing, yoga/mindfulness, beach clean-up work, sandcastle team building and healthy eating and an afternoon attending the Los Angeles Dodger Foundation's College and Career Accelerator Panel to learn what it takes to pursue a career in the sports industry.
Washington, D.C. Courtside & Tableside - Various events including a sports panel at Howard University, serving dinner at a homeless shelter and celebrating graduating participants with a dinner discussion about important program experiences.
Austin in Peru - Texas students headed to Cuzco for 10 days to work with the Peruvian Hearts organization on women's empowerment and other initiatives.
The foundation credits success to collaboration through its partnerships. "We work with other not-for-profit organizations, such as local chapters of Boys and Girls Clubs and Communities in Schools, to help administer the program. We work with these organizations to oversee budgets, ensure compliance with local, state and federal laws, provide insurance coverage and employ the teachers," according to the foundation website.
just keep livin also partners with corporate brands -- like the Texas Rangers Baseball Foundation, the Brees Dream Foundation, the Washington Redskins Charitable Foundation, the Los Angeles Dodgers Foundation and Target -- not only to help fund programs, but which also have an interest in maintaining involvement with their selected schools.
The afterschool partnership organization was founded by Camila and Matthew McConaughey who remain driving forces, always talking about the organization in public and on social media, raising millions at private events, selling merchandise that supports funding and creating new partnerships.