BJA Has $22.5M in Bodycams Program Grants
Bureau of Justice awards will range from $300,000 to $1 million for a law enforcement bodycams program. Policy must be developed and reviewed first before funds released for equipment purchase.
---
The Bureau of Justice Assistance Body-Worn Camera (BWC) grants are open to all state, local, district and tribal law enforcement agencies. The purpose of the bodycams program funding is to help develop, implement and evaluate bodycams as a tool in comprehensive problem-solving in officer interactions:
The key to this BWC grant is how programs go beyond equipment acquisition. Integral components include: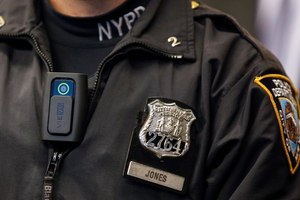 Policy development
Collaboration with other criminal justice agencies and community stakeholders
Adherence to evolving technological, training and legal standards
There are four categories for applicants based on agency size -- mid-sized, large and extra-large -- and one category for state or regional grant partnerships.
The minimum request is 50 cameras in some categories; regions must request at least 150 cameras.
BWC Policy Reviewed Before Equipment Purchase Funds Released
Agencies awarded must demonstrate BWC policies that are purposeful, deliberate and comprehensive. Grantees will have access to 10 percent of their award for preliminary policy development and planning efforts.
BJA uses the BWC Policy Review Scorecard to evaluate the policy developed by each agency's bodycams program, and grant recipients must complete the scorecard prior to the release of program implementation funds.
Agencies funded for deploying BWCs for the first time are required to work with BJA's training and technical assistance provider on policy development.
Agencies funded to expand existing BWC programs that already have BWC policies in place will be required to work with technical assistance provider to review and establish that their policy
development processes have been purposeful, deliberative and comprehensive.
Applications are due May 31, 2018.
Learn more and apply on Grants.gov.