DOT Releases Transit Trends Data App
From the U.S. Department of Transportation comes a free app that can fill your pocket with the latest U.S. transit trends data.
---
The U.S. Department of Transportation (DOT) wants to make transportation information more accessible to the public. Transit trends data for roads, bridges, airports, railroads, transit systems, ports, waterways and pipelines is now accessible by smartphone.
If you need transportation statistics at a moment's notice – for example, if you want to see a list of the most congested urban areas or if you want to find the busiest Amtrak stations – the Bureau of Transportation Statistics has a solution for you," wrote Patricia S. Hu, director of the Bureau of Transportation Statistics.
The Pocket Guide to Transportation is DOT's compilation on the U.S. transportation system, its primary resource for highlighting major transit trends. The guide is a compact reference, developed by the Bureau of Transportation Statistics, to share transportation knowledge with the public. The tables and figures are mostly derived from the National Transportation Statistics, which is updated quarterly.
DOT transit trends data shows that the capacity of the U.S. transportation system has not kept up with growth. Congestion and delays are having "significant impacts on passengers and freight shippers," according to the Bureau.
Some of the performance data in DOT's pocket guide goes back to the 1980s. The app offers an overview of trends over time, as well as a closer look at more recent transit trends data.
The free app version of the Pocket Guide to Transportation provides armchair statistics like: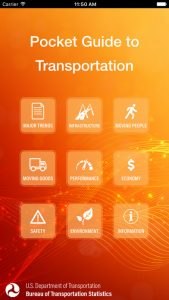 The percentage of the population that drives solo to and from work
The length of the average commute
The location of the busiest airports and train stations
How many miles traveled by truck delivering shipped goods
The app interface also divides transit trends data into sections:
Infrastructure
Moving people
Moving goods
Performance
Economy
Safety
Environment
Learn more about the app and the transit trends data on the DOT website.