How to Create a 311 Citizen Reporting App with GIS
Citizen Problem Reporter is a 311 citizen reporting app tool in ArcGIS. This video explains how cities can create and skin responsive Web-based applications for citizens to report and map non-emergency problems.
---
Using Esri's ArcGIS platform, cities can create a 311 citizen reporting app that allows people to report non-emergency problems -- like blight, graffiti, trash, potholes and more -- via a smartphone, tablet or computer.
Once a citizen reports comes in, a ticket can be created and routed to the appropriate municipal department.
Called Citizen Problem Reporter, the application is a configuration of the Crowdsource Reporter template. The template can be used by planning departments, public works agencies and other municipal agencies to supplement customer service telephone numbers by offering responsive Web-based service request applications.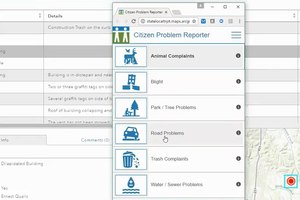 Configured through Crowdsource Manager in ArcGIS, local governments can monitor, verify and assign reports coming in over Citizen Reporter. If a city's automated system tracks service requests and work activities, the app requests can be routed through there to responsible agencies.
Developed in 2014, the tool enables map-based workflows. An online training Esri developed last year showed examples from DuPage County, Illinois, Riverside County Department of Waste Services in California and others:
Graffiti Busters enables Riverside County citizens to go online and report tags, monikers, gang symbols, posters, hate messages or random markings and map the locations for the county to review and resolve.
DuPage County's Citizen Reporter app offers both roadway and waterway reports, and has posted a 2-minute user video of how it works on a smartphone:
Watch the training, that includes development tips, workflows and answers to questions from the training's participants:
Learn more about Citizen Problem Reporter on Solutions.arcgis.com.