Louisville Developing a Drone-Juiced Gunfire Detection System
The city of Louisville did not get selected for federal aviation restriction waivers to test sending drones with cameras to areas triggered by gunfire detection, but the city continues to develop the solution.
---
Although Louisville's proposal to waive federal drone operation regulations -- by being included in the Unmanned Aircraft Systems Integration Pilot -- wasn't accepted, the city still seeks to send drones with cameras to places triggered by its gunfire detection technology, according to Insider Louisville.
ShotSpotter allows the Louisville Metro Police Department to pinpoint gunfire to about 80 feet, but camera footage from drones monitored by the LMPD's Real Time Crime Center would narrow the location down further.
Louisville Mayor Greg Fischer told local radio WDRB that the goal would be to help reduce crime where shots are often fired, but some groups are concerned that data collected by microphones and drones could affect both privacy and civil rights, according to The Daily Beast.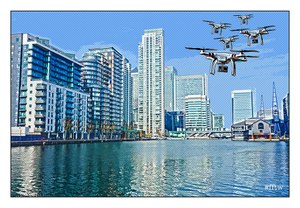 Earlier this year, the city received $100,000 from the Bloomberg Philanthropies 2018 Mayors Challenge for a prototype of the proposal, and could win a $5 million prize.
"We intend to apply again and to explore alternative routes for launching this innovative violence reduction program. In the meantime, we will continue to work with partners to develop this technology with the support of Bloomberg Philanthropies, and gather input from the community," Grace Simrall, chief of civic innovation for Louisville, told the publication.