U.S. Routinely Among Most Negative Cities Worldwide, Tracked via Emojis
Emoji Cities is a tool that tracks the negative and positive sentiments of 69 major cities throughout the world. U.S. cities routinely hold several places on the 10 most negative cities list.
---
Data sourced from 69 cities around the world using the official Twitter API are tracked using a tool called Emoji Cities. While only English-speaking tweets are included, Smart Destinations maps emotion throughout the world using the most popular emojis to provide insight into the social expressions of major cities and create global snapshots of both positivity and negativity.
The tool continues to update automatically every 24 hours, and the U.S. routinely has many cities listed in the tool's most negative cities list, including:
San Antonio, Texas
Washington, D.C.
New Orleans, La.
In October 2018, the U.S. had eight cities in the top 10 negative cities and none in the top 10 most positive. Today, six U.S. cities appear in the list: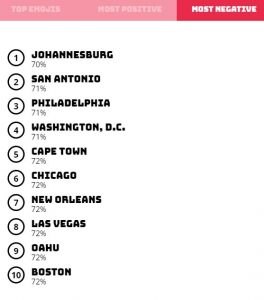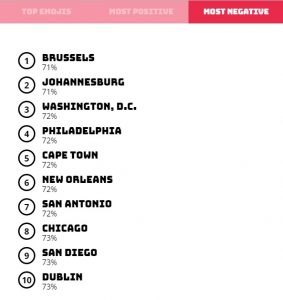 Overall sentiment changes in line with major events and with daily updating of the tool, the number of U.S. cities appearing in the top 10 most negative fluctuates. The information from Emoji Cities isn't stored or analysed, however.
Brandwatch also used emojis and analyzed more than 6 billion tweets over a two-year period to find the most negative places on Earth. The company found that in 2016 and 2017, Delaware, Illinois and Mississippi are of the most negative places on Earth while Utah was one of the happiest.
That study also found that the use of negative emojis increases in the evening hours.
Explore Emoji Cities on SmartDestinations.com.