How to Prepare Your City for EVs
Understand EVs--why adopt EVs and how to update municipal policies and building codes to integrate EV charging in multi-family communities and workplaces.
---
Some headlines say consumer interest in alternative fuel cars is lagging, but electric vehicle (EV) sales are trending up. Maybe its the mass appeal of the more affordable Tesla Model 3 sedan that is expected to bring the price of its Lithium-ion battery down to $100 per kilowatt-hour. Or maybe its the Federal government and states funding consumer incentives for EVs.
What is clear is that more widespread adoption of EVs will be driven in large part by local governments.
How should local governments prepare to get their communities plugged in?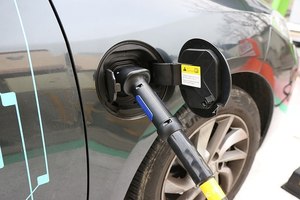 Learn Why EVs Lower Carbon Footprints
EVs, and hybrid vehicles, offer car owners a chance to minimize fuel costs and maintenance expenses while they reduce or eliminate emissions. Many states offer EV or hybrid rebates and at the federal level, drivers can get tax credits on these purchases.
EVs and hybrids can also help cities meet emissions targets and improve public health, so it behooves civic leaders to find ways to implement public EV charging infrastructure and reward EV drivers.
There are also arguments against EVs and hybrid vehicles:
They require more resources and energy to manufacture than fuel-burning cars.
They have carbon footprints if they rely on gas or coal-burning power plants for their electricity.
There is truth in these arguments. But over the life of a vehicle, according to research published in 2014 by Argonne National Laboratory, EVs are still the much greener option.
The research found that "even if a battery assembly energy reflective of a low-throughput facility is adopted, EVs consume less petroleum and emit fewer greenhouse gases (GHG) than an [internal combustion vehicle (ICV)] on a life-cycle basis."
Similar research on hybrids arrives at the same conclusions.
Also, the factories themselves can be energy efficient. The Nevada Tesla Gigafactory currently under construction is expected to be one of the largest buildings in the world, and will have a roof covered by solar panels.
The source of EV electricity is where things can get a little thorny.
If electricity comes from burning coal or gas, then an EV will have a carbon footprint*. Some estimates put coal reliance at about 45 percent of the U.S. energy grid.
Christine Grant, senior associate at Collaborative Efficiency who works with utilities in managing the energy grid and understanding the financial impacts of EVs, said the grid is constantly getting cleaner from a carbon perspective.
There's a lot less coal being burned every year. So, in places like the Pacific Northwest, where wind and hydro power are primary energy sources, EVs can have very low carbon emissions.
David Reichmuth, senior engineer in the Union of Concerned Scientists (UCS) Clean Vehicles Program, told Efficientgov that two-thirds of Americans live where driving EVs is cleaner than even fuel-efficient gas-powered cars.
In its first analysis, State of Charge 2012, UCS looked at regional electric grids to discover how clean EVs really are. It's 2014 U.S. map of how the GHG emissions of electric vehicles compare with ICVs provides a quick snapshot of what you can expect in each region. The UCS updated the research in Cleaner Cars from Cradle to Grave 2015 and puts EVs at half the global warming emissions of comparable gasoline-powered vehicles.
Here is a video summary of the findings:
In order for drivers to switch from gas-combustion vehicles to lower emissions EVs, said Reichmuth, parking and charging locally are important factors in those decisions.
Local incentives, like free public parking at EV charging stations offered in New Haven, Conn., might also help convince more drivers that EVs may be right for their them.
Understand the EV Mindset
If consumers are motivated to lower emissions in several aspects of their lives, many are held back by what they perceive as a lack of available charging where it is convenient. Called "range anxiety," some drivers are concerned that an EV could lose power before the driver gets home.
"But, most people don't drive nearly as much as they think they do," said Jeff Allen, executive director of the EV trade association Drive Oregon.
It's less than 40 miles per day according to the research, confirmed Grant.
For household-based travel, short trips account for the vast majority of trips, with more than half of all U.S. vehicle trips ranging between one and 10 miles.
EV charging usually takes place at home, Grant said, referencing a 2013 study by PlugInsights. Most EVs are parked for more than 12 hours per day at a residence.
However, "public charging stations are an important piece of adoption," because of the psychological barriers to EV purchases, she said.
EV drivers want to be confident they can get where they are going, and return home without running out of power.
Allen said that is why the role of local governments is so important.
We need to get past thinking of them as stand-alone, grant-funded special projects...Just like we plan bike lanes, we need to plan for where is the charging going to go," he said.
If drivers and commuters are going to reduce tailpipe carbon emissions and help reduce air pollution in cities, they need to know they will have a convenient place to charge up.
Explore EV Chargers & Costs 
There are three types of EV charging.
Low level charging uses a regular 110 volt plug and takes the longest. Many EV owners can charge overnight at home with these.
Level 2 chargers use 240 volts, such as those used for household dryers or ovens. Homeowners often have these accessible to their EVs as well. A lot of cities and workplaces are installing level 2 chargers in parking garages, shopping malls and in other public locations, said Allen. They charge an EV on empty in about 4-6 hours.
But what people need, said Allen, is fast charging. For example, people have meetings in New York, but they need to get back upstate, or return to Massachusetts, the same day. If they have access to fast chargers, more people might have the confidence to adopt EVs.
Called DC Fast Chargers, they can power up an EV from empty to 80 percent charged in 20 minutes.
But the cost is significant according to Grant's 2015 report on Mechanics & Market Trends, ranging from about $30,000 to $80,000 compared to $3,500 to $12,000 for curbside or public garage-based level 2 chargers.
The biggest cost issue for cities is trenching--the digging up of concrete and asphalt to put in charging, said Allen.
Although an integrated streetlight and EV charger product in testing may help cities alleviate some of the burden and costs of trenching, updating building codes and improving planning can help cities lower charging infrastructure costs moving forward.
Update Building Codes
Cities should be thinking about how commercial and multi-unit residential projects can make it possible for people without a garage at home to charge at work and where they live.
This year the California Public Utilities Commission approved Southern California Edison and San Diego Gas & Electric's (SDG&E) plans to own and install 1,500 and 3,500 EV charging stations, respectively. They will be located at businesses and in multifamily communities in all service areas.
To get ready for all the new residential and workplace charging stations, the county of San Diego put together a regional plug-in electric vehicle (PEV) readiness plan that included resources by the California PEV Collaborative. The Collaborative's PEV Readiness Toolkit, including its multi-unit dwelling guidance, can help local governments develop EV policies in municipal planning and community development, including building permitting.
Also, Oceanside, Calif.,  prepared Residential Electric Vehicle Charger Guidelines and San Diego prepared Information Bulletin 187: How to Obtain a Permit for Electric Vehicle Charging Systems that will help streamline the new charging stations that will blanket southern California.
All of the EV researchers and advocates that spoke with Efficientgov all said the same thing. By addressing the location of charging stations in the planning phases of projects, local governments can greatly reduce the cost of adding charging later.
Andrew Dick, the connected, automated and EV advisor to the Oregon Department of Transportation, noted that EV-ready building codes avoid trenching so charging can be added to new buildings later. The New York State Energy Research and Development Authority developed its EV-Ready Code guidance in 2012.
With the lines already built, the disruption and the high cost of trenching can be avoided.
*Clarification July 29: Although all-electric EVs produce no tailpipe emissions, most EVs produce some carbon emissions based on the carbon intensity of the local electricity grid's fuel mix.  Local grids with a higher percentage of coal and gas mean EVs in that region have a more significant carbon footprint.
Look for our next installment, How to Prepare Your City for EVs 2, where Efficientgov will address public EV fleets and incorporating electric bikes and buses into transportation planning.
Find out if local governments are on the hook to implement EV charging, or read more about electric fleets.