10 Cities Where Women are Closing the Income Gap
Trulia has found out which U.S. cities are seeing women close the income gap -- where they own homes and achieve equal pay for equal work.
---
While International Women's Day recognizes and praises the achievements women have all over the world, many cities in America are watching women close the gap on homeownership, education and pay every single day.
On a national level, women have become equal players in homeownership. Trulia's women's equality study found 46.1 percent of women surveyed were homeowners, which is only 4.2 percent less than surveyed men are. More women are also going to college and completing degrees -- about 30 percent of both men and women have four plus years of college.
While the pay gap has decreased by 7.1 percent since 2008, out of the 100 largest metros, 55 percent have actually seen some level of decrease in the income gap.
In certain cities, women are gaining ground in the workforce.
Where are Women Winning?
City statistics are indicating a bright future ahead for women as many markets have made positive changes on the sides of gender equality. Three key areas have determined this climb towards success include the change in gap pay, college enrollment and the percentage point in homeownership.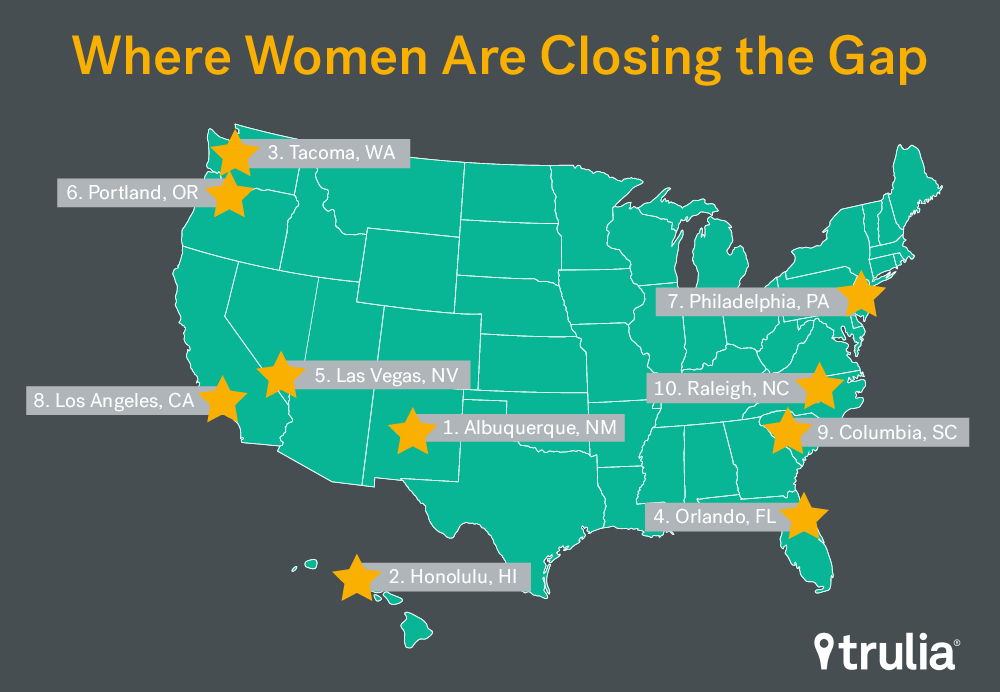 Albuquerque, N.M. in particular has seen remarkable progressions. The pay gap between men and women decreased significantly by a whopping 25 percent from 2008 to 2015. Additionally, women in Albuquerque are 1.15 percent more likely to have a degree and are 1.18 percent more likely to be homeowners than men are. Metros like Honolulu, Hawaii, Tacoma, Wash., and Orlando, Fla. are right behind Albuquerque as metros making leaps toward well-rounded equality.

The Top 10 Cities Where Women Have Closed the Income Gap:
Albuquerque, N.M.
Honolulu, Hawaii
Tacoma, Wash.
Orlando, Fla.
Las Vegas, Nev.
Portland, Ore.
Philadelphia, Pa.
Los Angeles, Calif.
Columbia, S.C.
Raleigh, N.C.
Where can Women Improve?
Surprisingly, certain cities are still a little further behind despite the major strides to promote women's equality. The study showed a pay gap increase in 41 cities that coincidentally included tech hubs like San Francisco, San Jose, Calif., and Seattle, Wash.. The tech industry has attracted fewer women, according to studies of secondary and post-secondary education in both the United Kingdom and United States. Also, a disproportionally low number of women are looking to pursue careers in STEM (science, technology, engineering & mathematics) fields. Furthermore, many believe a gender gap in the growing tech industry today could be a major contributor to job loss opportunities for women tomorrow.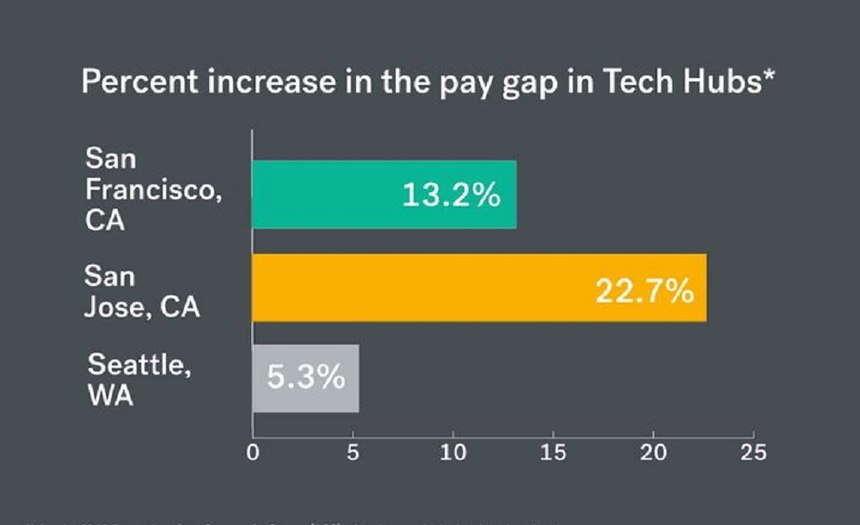 Another discouraging factor of the income gap is the amounted difference men are making, compared to women. As of 2015, a woman was making only 72 cents to every dollar a man makes, which could play another discouraging factor of women pursuing their careers.
However, cities nationwide are looking for ways to solve the gap. Whether it's passing a bill to protect employee rights or offering training plans to help women negotiate raises, cities across the country are doing their part to decrease the gap and promote gender equality. Here are a few examples of government taking initiative:
California bill prohibiting companies from retaliating against employees who inquire about co-workers' wages and requiring employers to provide equal pay for similar jobs that may have different titles
The City Council of Phoenix equal pay ordinance that aims at pay discrepancies with city contractors and vendors.
Phoenix training plan for women on negotiating raises
Employee recruiting plans in San Francisco geared to hire women in industries where their voice is lacking (i.e. public safety, information technology)
In total, it is clear that women are paving the way towards greater equality on a national level, and the country continues to see improvement.