7 Emergency Simulations Test Technologies & First Responders
Operation Convergent Response 2018 put Verizon and other technologies in local hands through a series of lifelike emergency simulations, while testing tech vendors for readiness.
---
Last month hundreds of first responders, public safety services, state and local government officials and industry partners put emerging front line technology through the paces in a series of emergency simulations in a neighborhood mock-up.
The week-long event tested more than one hundred technology vendors' solutions in the lifelike conditions of seven different critical emergency incidents:
Hurricane and flooding
Earthquake
Active shooter
Highway pileup
Nuclear detonation
Helicopter crash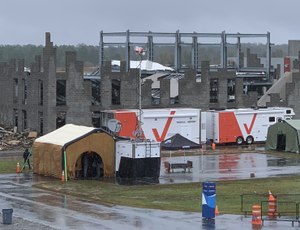 An on-site trauma center and disaster response trailer saved lives in the simulated disasters and terror attacks. There were delivery and cell-site enabled drones, gunshot detectors, tactical robots, throwable bounce-imaging cameras, Internet of Things (IoT) sensors, situational awareness devices for victim and responder location, inflatable tents for mobile decontamination and video surveillance were all deployed all available to address the tested threats. Telemedicine and telehealth were infused in the life-saving exercises, while robotic snakes searched for more 'victims.'
Verizon hosted the second annual Operation Convergent Response (OCR 2018) at the Guardian Center in Perry, Georgia, in partnership with Nokia and Aegex Technologies, according to Nick Nilan, Verizon's director of public sector product development.
More than 200 different agencies from state, local, federal, international organizations and enterprises came to examine the technology showcase and observe the emergency simulations. Veteran emergency responders from five different first responder agencies from the area were activated in the training scenarios.
It's good for first responders to be able to see technology in use during real-life situations," said Major Sharif Chochol, of the participating Columbia County Sheriff's Office. "My department is currently implementing technology that I saw at last year's event, and this year we learned about more technology that can help the department."
Drones, Detection and Data
Verizon unveiled its new Real Time Response System in the active shooter scenario. Integrating multiple data sources -- such as 911 dispatch calls, crime databases, video management systems, gunshot detection, gang databases, vehicle locations and more -- the system provides emergency managers and public safety personnel a consolidated, real-time operational view of the situation as it's happening.
This aggregated perspective, combined with critical data analytics, enhances situational awareness for responding emergency services responding with vivid live imagery and information.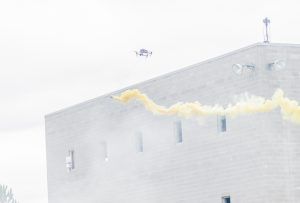 Also on hand was the company's new gunshot detection product, produced in partnership with ShotSpotter. "When ShotSpotter detected the 'shots' it triggered two automated actions," Nilan said. "One was a camera from our Intelligent Video solution, so you're getting live video from where those shots were detected; second, it also deployed a drone, which was able to get live video from the window as well as deploying a canister of yellow smoke to create a visual barrier between the shooter and potential victims."
In the subway terror attack simulation, which used three  Washington Metropolitan Area Transit Authority subway cars in various stages of destruction, video cameras featured thermal sensing for dark environments, portable lights that also could serve as repeaters for cellular telephony and radiation detection units.
The highway pileup simulated a rural highway crash with multiple vehicles and injuries, Nilan said. Flymotion, Tough Stump Technologies and Vayu all delivered different types of drones for this scenario, flying in medical supplies and providing a paramedic on scene with a backpack-mounted video cam on an extension cord connecting scene triage to the simulated ER. "The Columbia County Sheriff's Office brought in their response unit so they were able to show live video from their vehicle on the scene."
Testing Communications in Emergency Simulations
Showcasing reliable network connectivity during critical incidents was of prime importance. "It's an opportunity to demonstrate technology for first responders in real-world scenarios," said Nilan.
A variety of portable solutions provided Verizon LTE (Long-Term Evolution, a 4G mobile communications standard) network for the event.
"We were able to try out LTE delivered via an aerostat, which is a tethered blimp, in our flooding situation," said Nilan. "You can launch the blimp, tether it so it doesn't go anywhere in winds and deploy coverage over a ground radius. In our helicopter crash, we were also able to use a manpack, which is a backpack containing a network receiver, worn into the scene of a disaster and bring the network with you for use by a small group."
It Was Training for Tech Vendors, Too
The seven emergencies simulated require a diverse response so intra-discipline training between all types of emergency services, support agencies and non-government organizations can be essential when preparing for major disasters and wide-scale emergencies.
Beyond the influx of new technology, a key aspect of Operation Convergent Response is the opportunity for responders to train with organizations outside of their own discipline.
"We've been trying to crossbreed training for years and years, and it's finally starting to take hold between Incident Command and a number of other common types of training we do across disciplines," said Colonel Ken Morckel, former director of the Ohio Department of Public Safety, who has 44 years experience in emergency service.
OCR 2018 showed that vendors can – and should – do the same thing.
One of the great things that we saw at the event was vendors working together, not just to integrate their solutions or to drive a better outcome together -- and that was definitely part of it -- but also vendors helping to support other vendors with their technology," Nilan said. "For example, we had Gridless, a battery manufacturer that makes really big Lithium-ion batteries that can replace gas-powered generators. They were able to deploy their battery systems to power some other vendors' equipment when their generators failed or when rain short-circuited some of the outlets."
"Every vendor that was there -- and some of them were competitors -- hopefully got the message that no matter who you are, when the shots are fired or the siren goes off, nobody should be competing. It's all got to melt together," said Morckel.
"Although there were many different agencies at the exercise, OCR was really about all the different technology vendors coming together, with Verizon being the interconnecting web behind all that. It doesn't matter what one bell and whistle does if it can't do its job with everything else."
Push the Tech Training Forward
Nilan and Morckel both encourage other agencies and vendors to develop technology-based training events like OCR.
"We had about two thousand people between our participants, our customers, our staff and the Guardian Center's, all in a facility about an hour and a half south of Atlanta. That doesn't happen without a tremendous amount of planning," Nilan said. "Plan the logistics to the minute, but also work directly with whoever your identified customers are so that you can make sure that these simulations and your interactive displays mimic what they have to deal with in real life."
"OCR is not a Verizon commercial," said Morckel. "They brought in a lot of their customers, certainly, but they weren't selling Verizon. Those people were already Verizon customers, and they were being shown how they can integrate their systems with these new applications. I think this kind of event is a model that will work around the country."
The primary focus of OCR 2018 was to show technology that "really works when it needs to work," said Nilan.
"Technology generally works very well when you're in a PowerPoint. It also works very well when you're at a trade show," he concluded. "But in a simulation like this where everything is dynamic, it doesn't always work perfectly. Sometimes technology is built for technology's sake and not for the mission, and so there was a lot of discussion afterwards on where people saw true value in the technology. And there was a valuable debrief afterwards of what technology could be used and could be leveraged to improve mission response for those first responders," he added.